Philips introduces a revolutionary new light bulb on April 22, Earth Day across stores in New York City and online for customers around the country.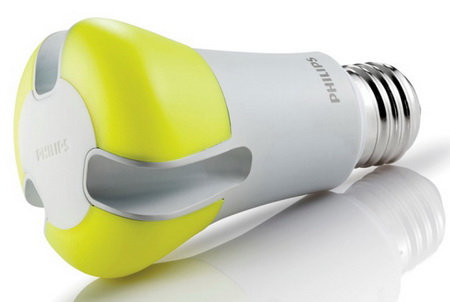 Photo: Philips L Prize bulb, by Philips via AP
Philips has been developing energy-efficient bulbs for years but this award-winning L Prize bulb that replaces 60-watt one uses just 10 watts of energy, has the same color quality as standard lights and lasts for over 25 years.
The only minus is the high price as the bulb retails for $49.97, though Philips says it does savings of more than $6 in energy costs a year and leaves a much smaller carbon footprint than the traditional bulb. However, Philips is discounting the bulb to $50 for retail consumers, and working on deals with electric utilities to discount it even further, by as much as $20 to $30, says CBS News.
It doesn't contain some of the same dangerous chemicals that the also environmentally friendly CFL bulbs contain and provides more natural-looking light.
Last year the bulb was awarded the Department of Energy's Bright Tomorrow Lighting Prize (L Prize) competition last year and the company started rolling out the product in stores this year.
In 2011, Philips presented its concept of an eco-friendly modern apartment, the Microbial home.