Refined alcohol drinks gave been always serving as channels for creativity to flow along to bright minds, and the international cognac and champagne brands never miss an opportunity to remind this through their projects and campaigns. Shortly after Hennessey revealed its 'What's Your Wild Rabbit' marketing initiative, which celebrates people who like to explore new horizons, the Rémy Martin cognac brand has launched a new cultural project Maison Rémy Martin FUTUR HERITAGE, which opens a door into the what tomorrow will bring us in the world of design.
Photo: Maison Rémy Martin FUTUR HERITAGE Exposition #1, work by Merve Kahraman
Since the future of is always in the hands of young generation, the brand commissioned emerging designers to share their views on what's to come—being the cognac brand, Rémy Martin asked the eight up-and-coming talents, students from ENSAAMA (Olivier de Serres in Paris) and Central Saint-Martins College of Arts & Design in London to focus on the ritual of the drink tasting. Their works will be now on display at the Maison Rémy Martin FUTUR HERITAGE exposition #1, which is staged by scenographer François Delclaux—the exhibition will be open in Cognac through June 30.
The works by Ségolène Girard and Weiche Wu, Carine de Fressanges, Jason Fletcher, Mélissa Duboc and Sebastian Popa, Yoann Vandendriessche and Merve Kahraman are reviving around the art of sipping the probably noblest alcohol drink. They are presenting their visions using various approaches and choosing the best way to highlight their ideas, which are merging present and future—in images, videos, photos and models. The design projects include a glass on a ring, unconventional bottles and sweets, travel cognac sets and more.
For Milan Design Week the work by Merve Kahraman arrives to Italy to be featured at France Design along with a digital scenography showing short videos of each project (this will be on display from April 17 to April 22).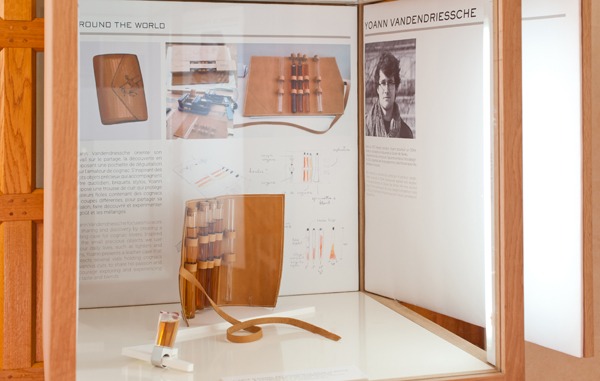 Photo: Maison Rémy Martin FUTUR HERITAGE Exposition #1, work by Yoann Vandendriessche (click to enlarge)