The illy sustainArt Award, of illycaffè, has come to Brazil. As proof of the importance of the Brazilian market for the company, the name of the country will be a part of the award title. The Brazilian version will be held during the eighth edition of SP Arte—which takes place between May 10 and 13, in the Pavilhão da Bienal de São Paulo. The project is part of one of the major initiatives of the company in its intimate relationship with the arts.
The gallerists present in the fair may choose up to three artists to participate in the award, as long as they meet the three requirements: live and work in Brazil and are under 35 years old. The judging committee—made up of the curator and art critic, Luisa Duarte, who participated as guest curator in the selection of the ARCOmadrid in 2011; collector Têra Queiroz; founder and director of SP Arte, Fernanda Feitosa; and the art director at illycaffè, Carlo Bach—will screen the entries to select the best 30 art pieces chosen by the gallerists. The pieces may be identified by the visitors with a plaque of 'selected artist,' which will accompany each of them.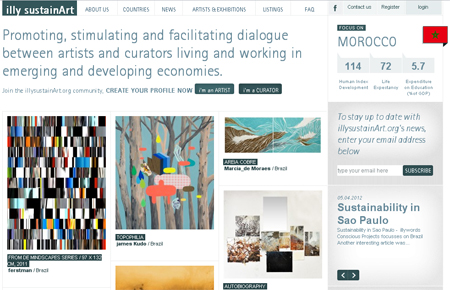 Photo: A snapshot from the www.illysustainArt.org
The acclaimed winner will be chosen by a jury and announced on May 11 by Carlo Bach. The piece will receive a special plaque identifying it as winner of the award. The winning artist will receive an award of 20 thousand Brazilian reais. Dedicated to the discovery and support of emerging talents of visual arts and of the contemporary design, the sustainArt Award seeks to straighten the links between the artists and curators around the world, reinforcing the concept that illycaffè is a company that appreciates and supports the arts.
The illy Award is part of the project www.illysustainArt.org, the online community dedicated to all new talents from various developing countries. It is a window to the world of contemporary art that works as a place of reference, meeting and cultural interchange for new talents and curators from these countries. In the last four editions of the illy SustainArt Award, the award winners were artists from coffee-producing countries, like Brazil, India and Mexico. In 2008, the winner was the Brazilian artist Matheus Rocha Pitta; in 2009, the Indian artist Avinash Veeraraghavan; in 2010, the Mexican Camilo Ontiveros; and in 2011 another Brazilian, André Komatsu.
The award is granted in cash, the masterpiece is not bought.