Bacardi Brown-Forman Brands rolls out a new marketing campaign in the UK to boost sales of its products this summer. The cross-promotional campaign called 'Drinks Made Easy' that launches on May 21 will be overseen by shopper marketing specialist MARS\Y&R.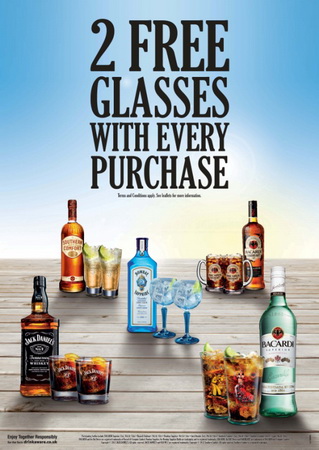 Photo: the 'Drinks Made Easy' poster
The main part of the campaign is a free-giveaway of limited edition branded Bacardi glasses during a series of public summer events. 500,000 Bacardi Brown-Forman Brands bottles including Bacardi Superior, Bombay Sapphire, Jack Daniels, Oakheart and Southern Comfort will feature neck collars. Customers will receive two free glasses with every purchase of these drinks. The promotion will run in grocery and convenience stores with FSDUs displaying promotional leaflets in over 1,800 outlets. Glasses are also redeemable on the campaign microsite, www.drinksmadeeasy.co.uk.
The web site provides visitors with 'how to make a cocktail' videos featuring the Bacardi resident Kitchen Mixologist Tom as well as cocktail recipes.
The campaign is designed to emphasize the strong brand identity of each Bacardi product and the overall image of the range as the best option for chilling during the summer vacation.
Andrew Jones, Off Trade Sales Director at Bacardi Brown-Forman Brands comments: "The Summer 2012 events calendar is full of occasions for friends to get together and celebrate, from the Queen's Diamond Jubilee and London Olympics to the usual summer BBQs and gatherings. When deciding what to drink at these occasions, we want consumers to consider something a little different to the usual bottle of wine or can of beer. By providing a pair of stylish glasses and cocktail recipes and how-to guides on our microsite, we hope to inspire consumers to celebrate this summer with easy to create drink serves served in designer branded glasses."
In the beginning of 2012, Bacardi has launched the all year long celebration of its 150th anniversary.