Burberry has announced a new digital campaign that will celebrate its British heritage and is timed to the Queen's Diamond Jubilee.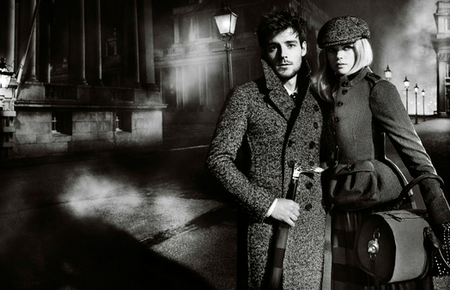 Photo: the new Burberry campaign preview, from ftape.com
Chief Creative Officer Christopher Bailey has curated the concept of the campaign and selected British actress Gabriella Wilde (she will feature in the remake of Stephen King's Carrie soon) and musician Roo Panes, who wrote a soundtrack called'Indigo Home' for the campaign, to be the faces of the Autumn/Winter '12 collection.
The campaign will include cinematic videos and music as well as a strong digital presence with availability to 'click-to-buy'. Shot by photographer and director Mario Testino in Greenwich at the site of the Olympic Games' equestrian competition, London, the chic black and white images will appear on the Burberry web site on June 1 and the soundtrack will launch on iTunes on the same day, says Ftape. Consumers will be able to purchase items directly through a campaign gallery and short films on Burberry.com. The campaign will also have digital platforms presence including Facebook, Twitter, Google+, Instagram and Pinterest.
Earlier this year, Burberry the brand launched the 'Runway to reality' strategy, which allowed 'VIP' consumers to buy items from its runway collections immediately, via an iPad app. Other recent digital activities included a new Art of the Trench photo-sharing website, which enabled consumers as well as fashion photographers to document how they wear the iconic Burberry trench coat and the Tweetwalk on Twitter where the brand posted backstage Twitpics of every look before they were sent down the runway.
"We wanted to play with everything that's at the heart of the Burberry world – celebrating our brand and London through imagery, film, music, weather and our iconic outerwear, all in a very poetic and British way. 
Using London as the backdrop, we shot the series of cinematic, emotive black and white images and short films with the incredibly talented Gabriella Wilde and Roo Panes, who effortlessly bring the campaign and our collections to life across all of our platforms," said Christopher Bailey.
Last fall, many iconic British brands including Virgin, Cadbury, BMW etc started promotional activities getting prepared to the upcoming Games.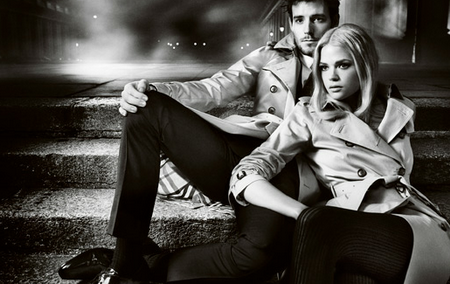 Photo: the new Burberry campaign preview, from ftape.com