Facebook has finally made its debut as publicly-traded company today. The IPO was announced last year but the date of the start was postponed. Starting today, everybody will be able to buy a stock on the Nasdaq stock exchange for 38$ per share but analytics warn users not to hurry. Why?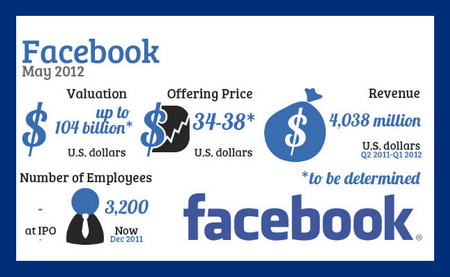 Photo: Facebook Infographic, from www.statista.com
Facebook has more then 901 million users around the world and, potentially, investors can now buy around 421 million shares of its stock but financial experts say its better to wait, because the stock is overpriced. And there are other reasons. For example, there are no guarantees that the excitement will last for a long time.
There are different opinions about whether buy now or wait. Some experts say it's better to wait for six months and purchase a share when the price will be lower. "Even in stocks there are laws of gravity. Take a deep breath and come back in six months," says Lewis Altfest, Ph.D., CEO of NYC-based Altfest Personal Wealth Management.
Other analytics such as Lubos Pastor, finance professor at the University of Chicago advice to buy now saying that the price gets higher with time.
Another fact that makes analytics to stay sober-minded is the mobile space. The social platform has to quickly adapt to the fast growing sector and to make more profit out of its mobile ads to delete this branch out of its risk factors list.
Facebook is currently taking the necessary steps to make more profit. Recently, Facebook rolled out a test service that allows users to promote their posts for money and announced the upcoming App Center with paid apps.
There is also a concern that todays trading session is likely to include a huge pop for Facebook shares, according to Forbes. Anthony Scaramucci, founder of SkyBridge Capital explained to Forbes that even if just a tiny percentage of Facebook's 901 million users try to get access to shares the demand will vastly outrun supply.
We'll see what will be going on when the shares start trading on the Nasdaq at around 11 a.m. today.