Facebook will soon launch the App Center, a new hub for users where they can find games and other apps, both free and paid. It is also a good opportunity for developers to create and grow their social apps. The App Center is the social giant's effort to find a new way of making money.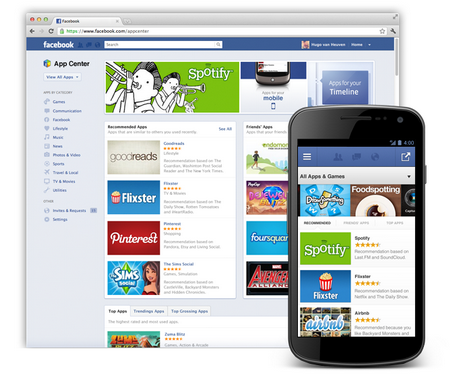 Photo: Facebook apps, from developers.facebook.com
The App Center is to be rolled out in the next few weeks. Over 900 million Facebook users will be able to access the App Center on the web and in the iOS and Android Facebook apps. Users will be able to find there such apps as Draw Something, Pinterest, Spotify, Battle Pirates, Viddy, and Bubble Witch Saga and much more, each app provided with detailed information.
The quality of app will be controlled through a variety of signals, such as user ratings and engagement. To help developers monitor user feedback, there is a new app ratings metric in Insights to report how users rate their app.
"The aim of the App Center is to grow mobile apps that use Facebook", wrote Facebook's Aaron Brady in a post on the Developers blog, "whether they're on iOS, Android or the mobile web. From the mobile App Center, users can browse apps that are compatible with their device, and if a mobile app requires installation, they will be sent to download the app from the App Store or Google Play".
The App Center will be customizable—each user will see a different personalized version of the App Center that will be designed according to the apps they prefer.
Recently, Facebook introduced the Open Graph 'Action Links'.