The United States Olympic Committee (USOC) will use electronic medical records (EMR) from GE for managing athlete care for the first time ever.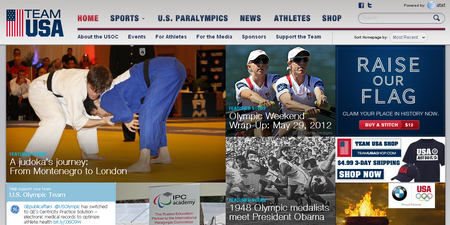 Photo: UCOS will use GE EMR to care of the Team USA athletes,
a snapshot from www.teamusa.org
GE already provides a variety of diagnostic imaging equipment to the U.S. Olympic Training Centers, including MRI, X-ray, and ultrasound. With help of GE's Centricity Practice Solution, an integrated EMR and practice management product, the USOC will care of more than 700 athletes competing in the London 2012 Olympic and Paralympic Games. The modern technology will be used instead of multiple paper records allowing doctors with faster access to athletes' medical records. GE is the USOC's exclusive provider of different innovative products, technology and services.
"The introduction of GE's EMR technology is a big step forward for the USOC sports medicine program," said Dr. Bill Moreau, USOC managing director of sports medicine. "EMR technology will allow us to better monitor and analyze the health of Team USA athletes, not only when they receive care at our facilities, but also when they are competing and training around the world. Our elite athletes have dedicated themselves to performing at the highest levels in sport and I believe this technology will help us to support them with the highest levels of sports medicine."
Additionally, GE and the USOC have extended their collaborative sponsorship of the Games beginning with the 2014 Games in Sochi, Russia and continuing through the 2016 Games in Rio de Janeiro, Brazil, the 2018 Games in Pyeongchang, South Korea and the 2020 Games.
To stimulate the development of a new generation of health sensors and sensing technologies, Nokia has recently announced the Nokia Sensing X CHALLENGE competition.