illy makes another artistic statement by launching a new cup set as part of its extensive illy art collection, which already includes a plethora of coffee cups and saucers created by celebrated artists from around the globe since 1992, the year of the line's launch. Being one of the artistic illy cups and resonating with the collection's philosophy (the creator's style gets splashed on the cup of an unchanged traditional shape), the new piece by a duo of contemporary Turkish artists, Yasemin Baydar and Birol Demir, :mentalKLINIK stands out by its origin since it's the first ever co-curated cup. The latest addition to the collection has been developed under the creative supervision of two, illycaffè's art director Carlo Bach and Jérôme Sans, cultural curator of Le Méridien, the Paris-born hotel brand.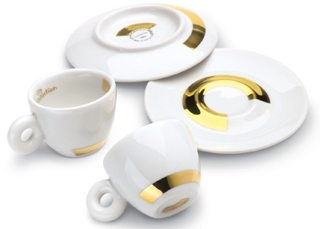 Photo: The illy Art Collection cup designed by:mentalKLINIK, www.illy.com
The new cup, which got available on May 24 at select Le Méridien Hotels & Resorts Worldwide, online at illy.com and at select illy coffee bars and cafés, and the release of the new pieсe was dedicated to the launch of Le Méridien Istanbul Etiler. The design of the new cup totally reflects the creative vision of Yasemin Baydar and Birol Demir, who focus on minimalistic approach in their work—the cup and saucer feature bright gold geometric elements placed against the white porcelain background. "At the least change in light and perspective, the perception of the shapes is changed as well: it evolves into different images influenced by light and reflections, and it shows different patterns," says illy, describing the new cup.
"The new, special edition of the famous illy art collection cup is inspired by the passion for art shared by illycaffe and Le Méridien. There's nothing better than sharing what you love with others," commented Carlo Bach. The :mentalKLINIK artists are members of LM100, a group of cultural innovators representing several generations and fields, which is curated by Sans. The program has been founded to develop new artistic projects, aiming to improve the experience of guests staying at Le Méridien Hotels, and since 2007 illycaffè has been participating in this project, which involves cultural innovators in disciplines areas as art, architecture, cuisine and more.
The limited edition piece by :mentalKLINIK follows the vibrant illy coffee set of four espresso cups designed by Daniel Buren for Monumenta 2012, unveiled earlier this month. These cups are black and the saucers feature white and black stripes with colourful finishing (green, yellow, red, and blue), hidden' underneath. The new set "draws on a visual pattern chosen by the artist in 1965 and which subsequently became his signature: alternating white and colored stripes (8.7 centimeters wide), inspired by the pattern of a type of drapery that was very popular at the time, and commonly used on awnings, deckchairs and pillows."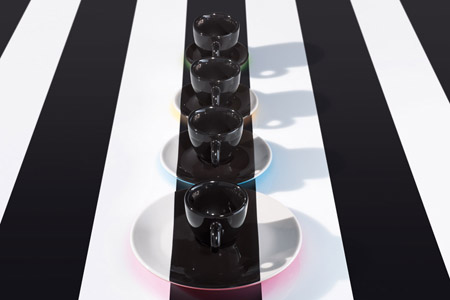 Photo: The illy Art Collection cup designed by Daniel Buren, www.illy.com