While for some, Identica is sort of perpetuated as 'the empire of Michael Peters', which created the famous Russian Standard Vodka, the company nowadays has evolved to become a dynamic and diverse growing structure with rich multidisciplinary offer and refined positioning as guru of brand icons. Richard Morris, Managing Director of Identica, tells about what the agency is strategically up to, explains what is a brand icon and how his team manages to 'create, evolve and restore' them and why they closed down the Moscow office 3 years ago.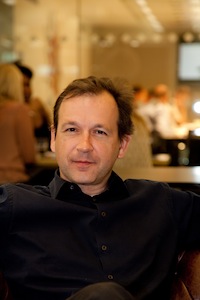 Popsop: First off, can you please tell us about what a network-owned Identica, as a part of EdC and Vision 7 International holding is up to these days?
Richard Morris: Identica was bought by the Canadian communications group Cossette in 2004 and Michael Peters has retired from the agency. Our group of companies is called EdC and consists of best-of-breed creative agencies such as Dare, Elvis and Citizen in the UK and a list of other companies in Canada, the USA and Asia. Identica was the first agency to have been acquired by the group outside the Canada and the only one in Europe with focus on design and branding.
Now we have a strong constantly growing team of 35 people,  a crystallised vision and refined expanding offer. We position ourselves as the agency which creates, evolves and restores brand icons. That's what we do in terms of brand iconography.
Popsop: Brand iconography? What is that?
Richard Morris: An icon brand is one, which has achieved universal understanding, that is part of the cultural fabric of society, and became part of the normal everyday currency of conversation. A brand that can be used as a synonym for a typical behavior.
Popsop: Then what is an iconic brand in your opinion? What's the recipe of creating an iconic brand?
Richard Morris: Icon brands tend to have a very clear point of view in the world — and a view that demands consumers either accept or reject. They are designed with specific targets in mind, yet have mass appeal. They tend to be the benchmark in their sector, the brands that set the rules by which their competitors must operate. And they tend to be more valuabe – both in the sense that they command a purchase premium, but also add a large invisible value to a company's balance sheet.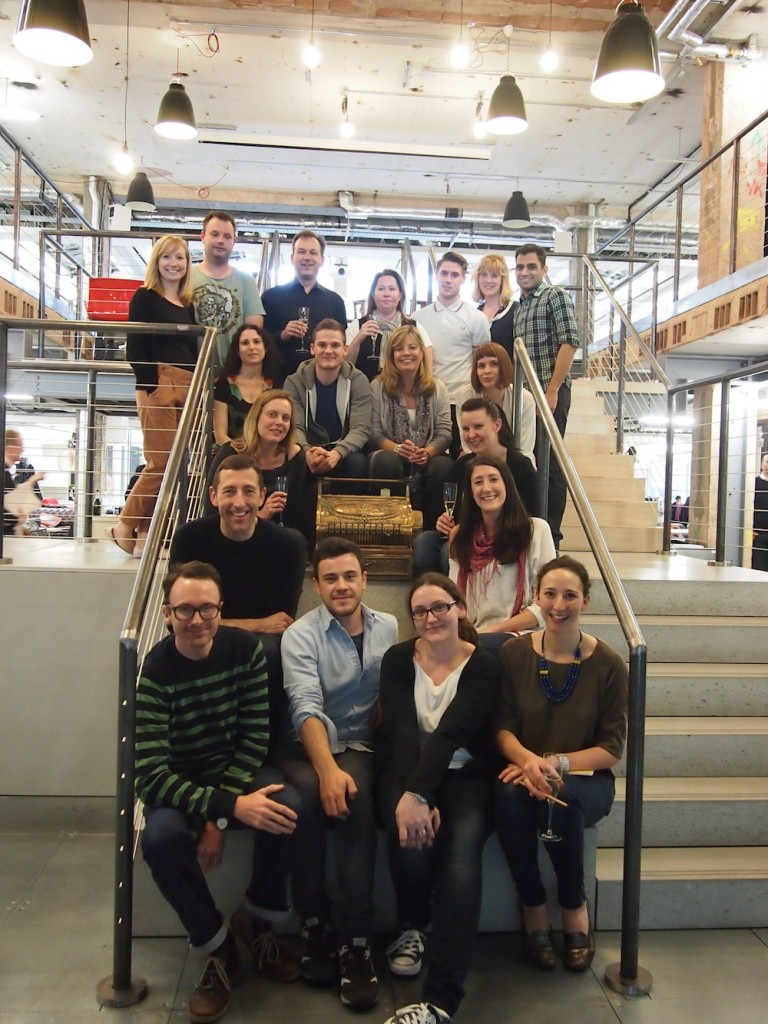 Photo: Identica's team
Popsop:  What are Identica's core competences? What is your offer now?
Richard Morris: At the moment we are probably known for product and packaging design as well as for corporate identity — that's our 'heritage' from Michael Peters.  However, it is just two thirds of our business. Another one third of our offer is retail design, particularly, what we call 2D graphic design for retail environment.
We are growing fast and in 3 years time about half our business will actually come from new disciplines to the agency. We are investing heavily in 3D, which we already have a rich history in — for both retail strategy and product/packaging structural design. We are building a very strong team of experienced 3D designers and architects, now headed by Giles Hardy.
We'll be focusing more on creation of our own product and brand Intellectual Property. For that, we've just established partnership with a brilliant product design agency — Hyphen. This is truly unique model of running a branding business; none of our competitors in London have ever done something like that.
And the third direction of our future growth is digital. We do digital at the moment, but I'm sure it could be much richer area for us. We are redefining what 'digital' means in a brand design space
Overall, these 3 areas —3D, own brand IP and digital— are becoming increasingly important for us.
Popsop:  Can you imagine a situation, when a prospective client — a small startup or even an individual — approaches you with a brief to create a brand, but doesn't have any budget for that. Would you consider a deal with that client, based on "future anticipated earnings"?
Richard Morris: It can easily be that. I've been approached by clients several times, by Russian clients as well, by the way.  They all said: "Look, we have a brilliant idea, could you create a brand for us and be our partner on that project?" I always said 'yes', but we've never actually done it. Because we say 'yes' to people, it gives them incredible confidence that actually it must be a very good idea and they are not likely to give away shares to anyone. However, I think it's the kind of issue going forward.  I think, if people are really interested in that, then I'm totally open to having that conversation. Of course, I have to think that it is a good idea indeed, I have to be sure that there is a market for it, that they have a good consumer insight, I have to know that they can manage that properly. So, that type of client must convince me that it is a sound business proposition, something I want to do and something I'd like Identica to be associated with.
Popsop: But there are some other ways the 'product and brand IP' model works?
Richard Morris:  Of course, there are actually 2 ways. Firstly, when we explore opportunities on different markets internally, which we can exploit and create some vision that can be applied into a new 'brand icon' creation. Another way, when we suggest a new product development to our existing clients, researching which type of niche they are missing and offer them to launch a new product that is in line with their developed brand architecture.
Popsop: Do you usually ask clients to feedback to you on the effectiveness of the design you did for them?
Richard Morris: Yes, we do that, because it is incredibly important to maintain that conversation with a client. My background was originally in advertising, and when somebody says that the effectiveness of advertising can't be measured — it is nonsense. It can be measured, but you have to invest in it, you have to gather all the data, which changes very quickly, so the effect of short-term ads can be calculated easier. The structures for branding agencies to do that are much less robust. And I think that's a challenge for the whole industry to build those models and put them into play.
When we formulate a brief for a new project, we do set some metrics based on client's objectives. And after it is finished and launched, we ask our clients to feedback to us.
We've recently finished one big project —Which?— and agreed to discuss the effectiveness of branding work we did later this year, to see some initial results.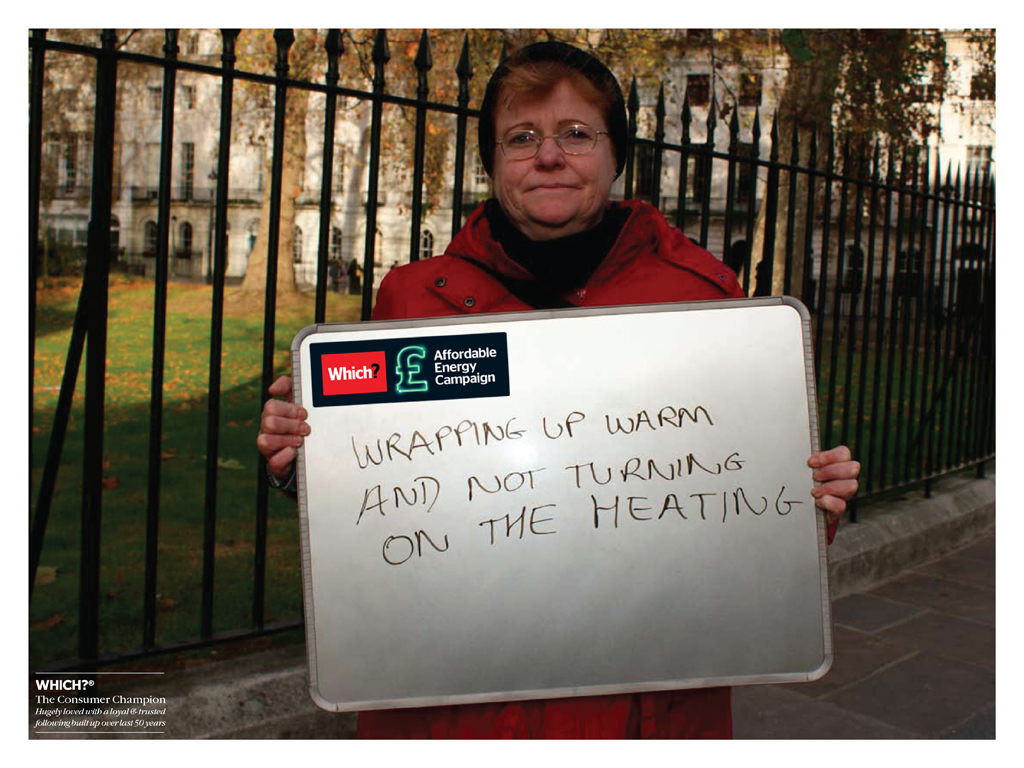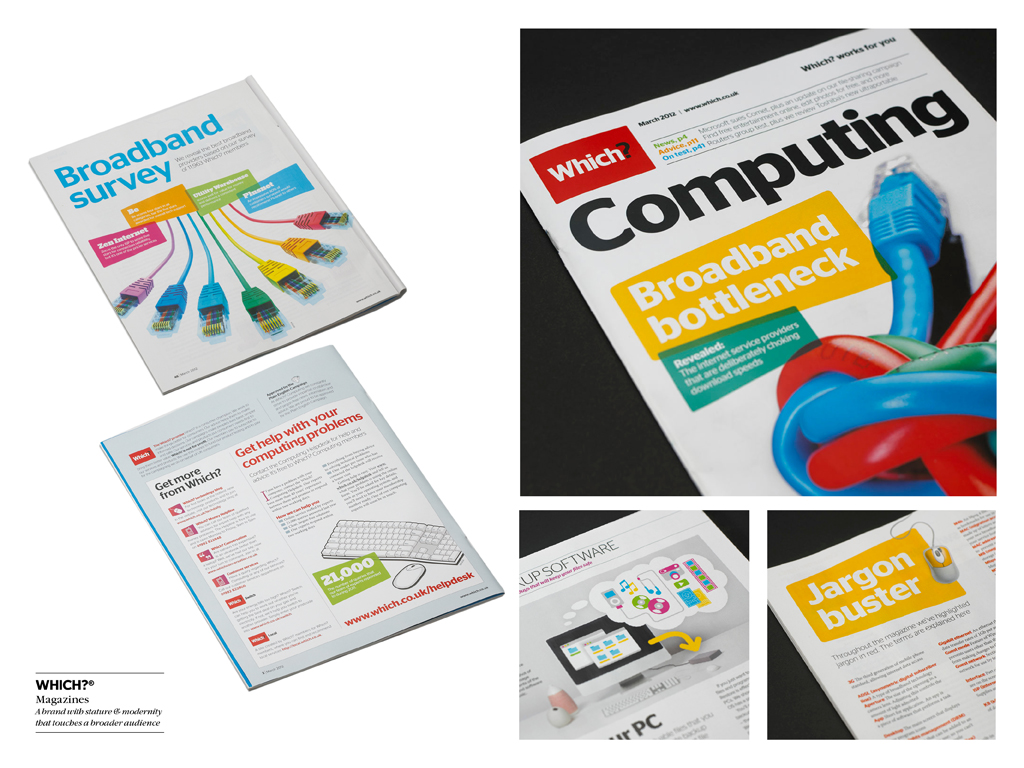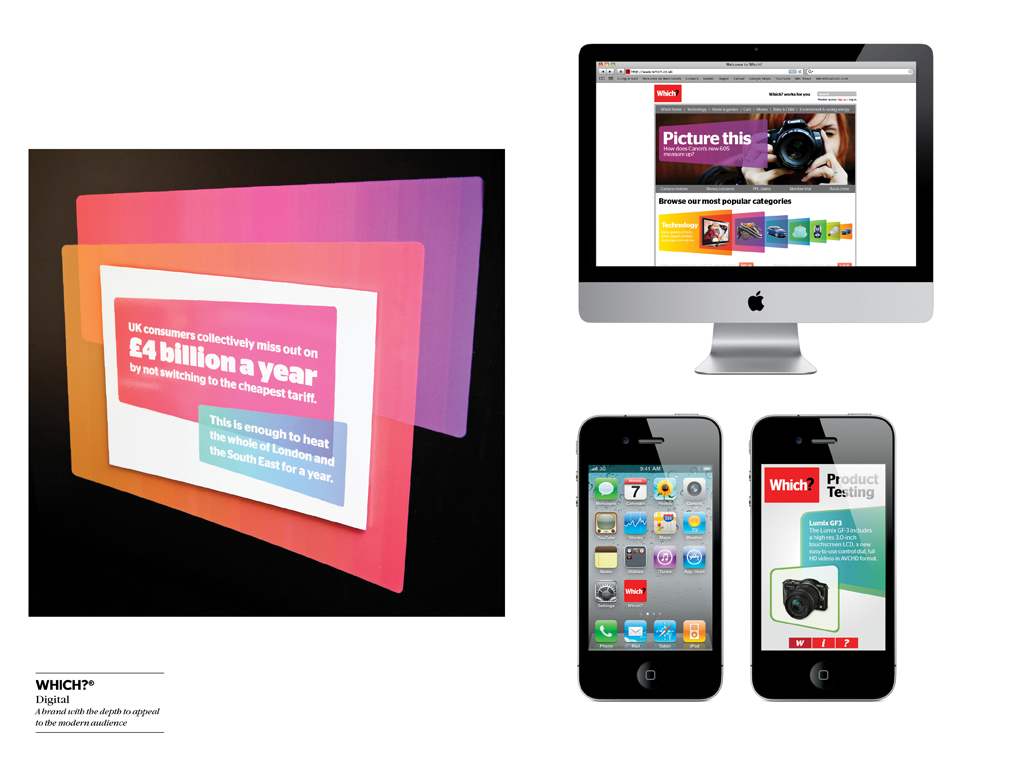 Pic: New identity of Which?, Large European consumer organization, developed by Identica
Popsop: I suppose you try to keep your clients for as long as possible? What's the proportion between your long-standing clients and new business?
Richard Morris:  Of course, we do, however, it can work in different ways.  We are  project-based and, moreover, relationship-based business. With some clients we've been working for 5 years continuously. With another client we did a project about 10 years ago and now they have come back to us to renew that work.
Popsop: What is your approach to new business development on different markets: in the UK, some 'emerging' ones like Russia, India, China?
Richard Morris: Frankly, we've been very fortunate in that regard. We get a lot of what we call "reactive new business". Quite a lot of potential clients approach us and are interested in working with Identica. Having said that, I think we can be a little bit more proactive to ensure that we can get the right sort of projects. Given our positioning of 'restorers of brand icons', companies with some branding problems find it very easy to reach us.
Popsop: How successful have you been in financial terms? What's your turnover this year and how has it increased/decreased over last few years?
 Richard Morris: I don't think we've filed it yet for the current year.  Last year our turnover was about 5 mn, our revenue – 3.7 mn. So, last year was very successful. Now we are in a very good shape and growing very quickly. Identica is the fastest growing company within the group.
Popsop: How did recession influence your business?
Richard Morris: It was really hard. At that time Identica needed some restructuring, needed to regain its confidence, needed a mission. This is actually why we defined the 'brand iconography' positioning — to make it something what we as an agency were about. That was very important for our team to redefine their own mission and goals in the company.  If you ask any Identica employee now the question what he or she actually does, they would say that they are creating, evolving and restoring brand icons. A very clearly understood mission is incredibly important for every company. And we never forget we want to be a brand icon ourselves.
Popsop: Could you please comment on Identica's strategy towards Russia and CIS region?
Richard Morris: We have very strong credentials in working with the biggest Russian clients. We created truly iconic and very successful Russian Standard Vodka in 1999, after that we rebranded Aeroflot.
Identica actually had an office in Moscow for quite a long time, but we closed it three years ago after the decision to do all the design and managerial work from London.  It was a sound business decision but while we continue doing lots of Russian business, I'm increasingly convinced we need to have more presence in Russia on the ground.