Nokia has unveiled its 2011 Sustainability Report, which shares with publicity the facts about Nokia's relation to the ethical, socio-economic and environmental areas. Last fall, the company was listed as #14 brand in the 2011 Top100 Global Brands List.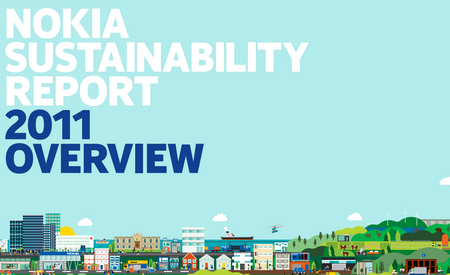 Photo: the report's title page, a snapshot
The report features two themes: the People section, which covers the topic of the positive effect that mobility has on standards of education, health and economic well-being globally; and the Planet section, which describes Nokia's sustainable devices and its impact on the environment. It also shares Nokis'a environmental strategy.
«Nokia strongly believes that access to communication and information is a right, not a privilege. Mobile communications technology has the power to strengthen public life and role of citizens around the globe, and it has proven time and again that it can democratize the spread of information,» Nokia's CEO Stephen Elop said in the report.
In 2011 Nokia produced its Policy against Illegal Trade of Natural Resources and joined the Public-Private Alliance for Responsible Mineral Trade to prove its products are free of conflict-minerals.
Last year, the company also released its Nokia 700, an industry leader in the use of bio materials and recycled plastics and metals. The low-priced Nokia Asha range phones are also were added to the company's eco products list. Last year, the company also introduced its first onsite installations for generating renewable energy: fuel cells at the facility in Sunnyvalein the US and a biofuel station at the factory in Chennai, India.
There is a special focus on Nokia's performance in the areas where business practices most affect society and environment and nine key topics actual in 2011 are reviewed in the report. These topics are improving people's life with mobile technology; Nokia's economic impact; labor and social issues in Nokia's operations; social issues and ethics in supply chain; customer satisfaction, privacy and product safety; environmentally leading mobile device range; take back and recycling; green operations and facilities; green supply chain and logistics.