Omega, the official timekeeper of the London 2012 Olympic Games, has rolled out its global advertising campaign for the Games. The campaign's epicenter is a TV spot, produced in 15-, 30- and 60-second versions.
Filmed in South Florida, the ad features Omega Brand Ambassadors including Chinese diver Qiu Bo, U.S. swimmer Natalie Coughlin, British heptathlete Jessica Ennis,U.S. sprinter Tyson Gay, South African swimmer Chad Le Clos and U.S. pole vaulter Jenn Suhr concentrated and getting ready to perform in the last seconds before a competition starts.
London's iconic band Rolling Stones that are celebrating fifty years anniversary this year agreed to provide their 1981 hit, 'Start Me Up' as a soundtrack for the ad. The ad will start airing in the UK soon and there will also be the additional footage on Twitter, at the hashtag #startmeup.
"The shooting schedule and locations for the spot were quite ambitious," said Omega president Stephen Urquhart. "But the result is powerful and emotional and we are very happy with the result. The Rolling Stones are the definitive London band and we are thrilled with this mix that breathes new life into a great song that the world has loved of thirty years."
It's the 25th time that the Swiss luxury watchmaker becomes the Official Timekeeper for the Olympic Games and it will also celebrate 80 years since it first served as the Official Timekeeper at the Los Angeles 1932 Olympic Games. Omega celebrates these events with an Olympic Timekeeping Exhibition at KaDeWe in Berlin from May 29 to June 30.
Visitors can view the equipment Omega has used in its role as Official Timekeeper of the Olympic Games over the past 80 years. There are also a photoelectric cell Omega developed in 1945, the electronic start pistol that was introduced in Vancouver in 2010 and a prototype of the world's best-selling photofinish camera in the world, the Omega Photosprint.
Other big brands currently running the Olympic Games campaigns include Coca-Cola, BMW and McDonald's to name a few.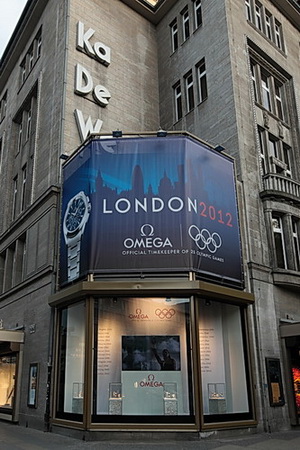 Photo: the Omega exhibition facade