Pinterest, the photo sharing social platform has seen a significant growth rate this year. So, now it has decided to expand and embrace more markets.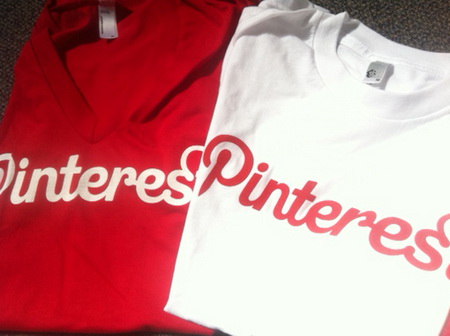 Photo: Pinterest-branded T-shirts, from blog.pinterest.com
The social platform announced in a blog post that it's looking for translators in French, German, Japanese, Portuguese and Spanish. These five languages is just the beginning.  In the closest future, the company hopes to launch the site in more languages including Dutch, Greek, Italian, Korean, Malay, Polish, Russian, Simplified Chinese, Swedish and Turkish.
"At Pinterest, we've always wanted to make it easy for people all over the world to organize and share all the beautiful things they find on the web. We want to take another step towards making this vision a reality by translating Pinterest into other languages," says Pinterest in the blogpost.
Brands are actively using Pinterest for promotion. For example, Honda rolled out a 'Pintermission' campaign last month and Kotex launched the 'Women's inspiration day' in March.
Now, Pinterest is the No. 3 most popular and fast growing social network in the U.S., after Facebook and Twitter. Though, Pinterest is only available in English language now, it doesn't mean that the social website is not popular behind U.S. and Canada. There is a variety of Pinterest-like clones abroad and Pinterest's move to translate their platform seems to be really smart.