Having been set 8 years ago in London by our today's interviewee Nick Dormon, Echo is made up of an eclectic mix of people, backgrounds, insights and experience which best matches the challenges faced by brand-owners — there isn't a one size fits all approach. Echo's fresh, but intelligent approach combined with uncompromised values influenced the likes of Unilever and Molson Coors to choose Echo as their creative partner on some significant and long-term projects.
In the interview to Popsop Nick shares his insight on the importance of graphics and structural design as one entity, explains why 'madness, magic and meaning' are the core Echo's values, and argues on the shift from designing for stand-out to meaningful branding.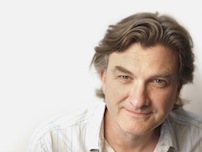 Popsop: Why did you and your business partners David (Bic) Bicknell and Andrew Capper decide to break away from Blue Marlin and set up Echo in 2004 when there were dozens of highly-successful brand and design agencies specialising in both product and packaging design, such as SeymourPowell, 1HQ, again, Blue Marlin etc?
Nick Dormon: Because we were surprised by what was happening on the London scene of design and branding.
I've been in the branding industry for about 10 years and the design industry for over 25, worked with lots of different agencies such as IDEO, Coley Porter Bell and others. Having started out as an engineer and product designer, I then moved into product strategy, into innovation and finally, into branding. My co-founding partners Bic and Andy also have very rich and various backgrounds — but we all experienced that most of the agencies out there were founded purely on graphic design and the few that offered structural and product design, weren't, in our view, doing it properly.  It's a very difficult business because you either get big projects or nothing — you have to rely on a client who's ready to invest millions of pounds in changing the whole pack, the production line and reorganise processes. But, we felt we knew how to do it and decided to start a company from scratch that would combine graphic and product design as one entity.
Now, after 8 years, it was a very wise strategic decision. Having set-up a new type of agency, we focused on getting the purpose back to brands; helping to build genuine experiences, create bonds with consumers and, as a result, create loyalty.
Popsop: How did you manage the financial side of things to start a new venture from the ground?
Nick Dormon: We self-funded the company — the three founding partners put their own money into the business. Literally, we used credit cards, borrowed money from wherever we could. We realised it would be very hard but we didn't want any third-party interference, as we wanted to do that our way. It was really tough, especially for the first two or three years.
We had to build a profile, as we had no clients and no portfolio, so we designed a conceptual project called "Fresh Wine" for the drinks industry.  It was an idea for a low-alcohol light drink for special occasions, which was not on the market yet. We sent it to prospective clients we wanted to work with — that's how we got our first real project. It really helped to position ourselves as strategic thinkers, strategic partners for our clients, not just a "design agency". Then, we were pitched to redesign the Sure for Women range and won the project, having left some big name agencies behind. That was a real breakthrough.
Popsop: What's your role in the company now? Is it more entrepreneurial, managerial, creative?
Nick Dormon: I'm a manager, thinker and dad here — I administrate things and look after the people and processes. My role as a managing director is to create the right direction to the company — while our people are busy doing day-to-day work, I gather those things together and create the synergy and energy behind it.  And, of course, my role is to make sure that all our people work effectively together.
Popsop: How would you define «the brand Echo » in 5 simple words?
Nick Dormon: We've been on a long hard walk to understand what actually makes us different as a business. But now I can answer even in 3 simple words. They are 3 Ms: madness, magic, meaning.
We are hired, because we are mad. Madness is about suspending conventions; it's about doing something slightly crazy. We need to change things — we need a different framework to think differently.
Magic: everything we do has to be gorgeous, beautiful, because we are creating the 'feel' — that's the whole point about branding and design.
And the last one is the most essential — you need to have meaning and purpose. Because without it, there's no point. What we do has to have reason behind it; that makes sense of everything.
If we can capture all three these things in our work, we know we've done a good job.
Popsop: As an engineer and designer, where do you find the perfect balance between structural/product design and graphic/visual implementation? What's your favourite piece of design that looks, works and feels equally impressive?
Nick Dormon: My favourite piece of design is the Dom Pérignon bottle of Champagne. It hasn't changed for over 90 years.  But you would recognise it from a mile in a bar because it has got an amazing presence. It's very distinctive and not overdesigned. If you ask an average studio expert to analyse this piece of design, he or she would probably say that the label looks dull and should be brightened up, the fonts need revision, that logo should be made bigger – something like that.  But hang on for a moment! Dom Pérignon is actually a signature. Why would it need to be bigger? Here the bottle is doing one job. It says it's Champagne (and is immediately recognised in a category). It also says it's chic and sophisticated. The label, which is dark and unusually placed closer to the bottom, says that the brand has been around for a very long time and doesn't have to shout.  Dark glass of the bottle visually adds weight and a classic Champagne closure finalises the look and feel offering a pleasant opening experience. A perfect example of design with purpose.

Popsop: What is Echo's approach to new business development? Do you proactively look for projects? Or do you prefer to retain relationships with the long-standing clients like Unilever? And how did you win the project for O2?
Nick Dormon: We were introduced to O2 through an intermediary company, ISBA. The majority of our work comes through recommendations, referrals and word-of-mouth. It's extremely tough going out there, trying to get a new client via the marketing circle, because there are so many rosters in place. However, what we do is slightly different and those challenging and complex projects usually come from relationships with senior people at brand owning companies: brand directors, marketing directors.  We try to grow and build strong relationships with our long-lasting clients, rather than proactively looking for new businesses.
Popsop: How did the latest recession influence your business?
Nick Dormon: There's been constant talk of recession in recent years, however, despite the last year being one of the worst in terms of economic climate, Echo doubled in size. Partly it's because we're too small to be seriously affected by any recession — we're more dependent on winning or losing projects, so we're more in control of ourselves.
Also, in recession, brand and design agencies often have more work as global brands, particularly in FMCG, try to get ahead of competition and we see more start-ups.  Why? Because it's the right time for new, bigger opportunities. Despite any recession, people won't stop eating, washing their hair, buying cosmetics etc. In that sense we're in quite a recession-proof industry.
Now, global companies are much better organised and try to increase margin by adding value to their products — that's exactly what a design agency does: we help clients sell the product for a little more by adding value. So, actually, recession is not a bad thing for a design agency like us.
Popsop: How do you evaluate whether a new project enquiry is of interest to you or not? Is there any minimal price point for you?
Nick Dormon: We don't have a minimum price point, no. We consider every detail when a project comes in. However, because of our skill set — strategic level of thinking — we tend to work with bigger companies and bigger projects. But actually, as a team of people, we like to work with the small ones as well because it's refreshing and you have a different type of relationship with the client.
In any case, the first thing we do is to help the client formulate the brief. They come and say: "This is our business challenge. How can you help us solve it?" That's what we really like. Because then we can help design the whole programme around what their business need is, and find the right design solution, through the right process. We actually visualise the brand and its core values and create a manifestation — through colour, form, texture, behaviour. We used that approach to redesign the whole brand experience for Sure for Women.
Popsop: Speaking of commercial success and performance, you were rated 71st in the TOP 100 Design Week's consultancy Survey 2011 with a fee-income of 1,586 mn (in 2010). What are the figures this year?
Nick Dormon: We had a turnover of 3.1 mn last year. We've been out there just for 8 years, starting as a self-funded business with no clients or portfolio. I think it's a good growth, but honestly, expansion for the sake of expansion is not our goal. We see Echo to grow from 30 to maybe 50 people and 5-million turnover during the next couple of years. But we will always try to keep a collaborative atmosphere and full control of all the processes.
Popsop: Do you hire recent design graduates or provide any internship programmes?
Nick Dormon: Yes, we offer a short-term paid internship programme where students join us for about a month. We really welcome young designers and account managers for junior positions at Echo as we need to train people in our own ways of working; where graphic and product designers work together in synergy; so we bring up people with a unique set of skills. Over years I've done a lot of teaching in design colleges and I'm try to make these ties stronger — these students are, afterall, our future people.
Popsop: What's the main lesson you've learnt over the years in business and life?
Nick Dormon: My personal lesson is about creating your destiny, your own luck. So many people just wait for things to happen. When I started in work, I thought that my boss would help me develop my career and I would be guided by other people. But actually, if you look towards something, it will happen. It's like starting your own company. It's immensely difficult. You have a notion in your head, and you start talking to people about that, and another people get involved. Once you start on that – go for it and make the ball keep rolling. We create our own destiny, no one else.