Sony is giving Australians a great opportunity to make use of bad photos they've taken during the holidays. The brand has launched a new advertising campaign dubbed 'No More Bad Photos' to promote its Cyber-shot HX20, which encourages people across the country to upload their bad stills for a chance to go on the holiday again and re-experience all the exiting moments worth capturing.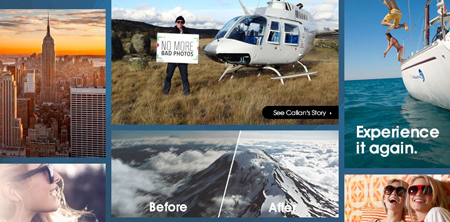 Photo: A snapshot from the No More Bad Photos hub, www.sony.com.au/microsite/hx20ms
«With so many ways to share our photos and experiences popping up, it's not enough just to say you went somewhere— now the photos you share get viewed and reviewed by all your friends and family. Our new Cybershot HX20 camera packs in simple to use features that make taking really great photos just so easy. Using Intelligent Auto Mode, Sweep Panorama, 20x Optical Zoom or Low Light shooting, you'll be proud to share all your travel and adventure photos," commented Anthony Moy, Sony Australia's product manager for digital still cameras.
The campaign developed by the Euro RSCG agency, is rolling out here and already features a story about 19 year-old Callan who returned to the initial destinations to take a better photo. "Callan wanted to re-shoot a photo taken at Kosciuszko National Park that was out of focus and washed out due to low-light. Although we couldn't give him the snow that was in his original photo— we did help him get even better photos and from all angles in our helicopter!" says the brand.
Australians are invited to submit their stills the brand's Facebook page starting May 15, and then Sony will select several winners who will embark on this come-back journey to retake their photo. Then, the new stills captured with the new HX20 camera will be used in Sony's broader advertising initiative on the digital platform, promoting the new Cyber-shot camera, which helps people take perfect photos. The winners of the contest will be tapped for the activation as well.