Stella McCartney has opened the first adidas by Stella McCartney stand-alone store, located next to the recently opened Stella McCartney mainline and kids' store in London's Brompton Cross area.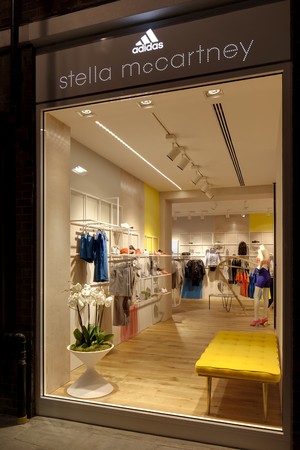 Photo: aview of the adidas by Stella McCartney store,
from www.wwd.com, photo By Ed Reeve
In the 800-square-foot, two-floor store all last results of the collaboration between the designer and the sportswear company are available for purchase. The collections are the adidas by Stella McCartney active wear line, the Stella Gold collection as well as a replica collection of the kit created for this year's London Olympics.
McCartney designed the space together with architects APA, using materials such as timber, concrete, brass rails and glass shelving. The store features a sculpture made using chains and timber and used to display the latest collection, says Vogue.
«The vision was to create a great and unique store concept that positions the adidas by Stella McCartney label as a premium sports collection,» said adidas UK marketing director Nick Craggs. «This store will enforce our connection to deliver great products for women in the one and only store dedicated to only selling adidas by Stella McCartney collections. This store will also launch our next generation of store design for presenting the adidas by Stella McCartney label worldwide.»
McCartney has been creating successful collections for adidas sicne 2004. In 2010, she was appointed creative director of the official adidas Team GB Olympic kit that was unveiled this March.