Bombay Sapphire together with Russell & Danny Simmons' Rush Philanthropic Arts Foundation and Complex Media has launched the 3rd Annual Bombay Sapphire Artisan Series, which means a new chance for emerging artists to make their works noticed.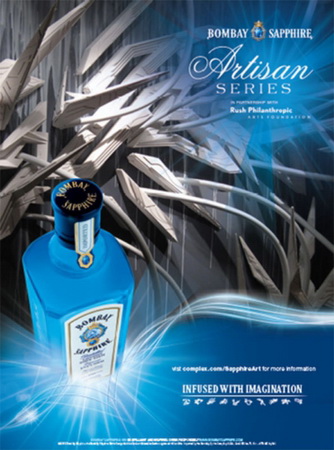 Photo: the Bombay Sapphire Artisan Series poster
First launched in 2010, the last year competition received more than 3,000 submissions and initiated the sale of seven works of the finalists to the amount $100,000 in total. In 2011, New York mixed media artists Miguel Ovalle and Lerone Wilson were chosen as the winners.
Artists can submit their works to the dedicated web site or Facebook page by August 24.  In the end of August fans will vote for their favorite piece of art on the Facebook page. The works will also be judged by a panel of judges that includes established curators and artists.
The panel will invite select artists to display their work at gallery exhibits and events, taking place from July through October nationwide. One artist from each local event as well as two artists, who enter the competition via its online platform, will be chosen to compete in the finale during Art Basel Miami. Finally, two overall winners will have their work installed at Rush Arts Gallery and Resource Centerin New York City's Chelsea arts district in February 2013. 
«The Bombay Sapphire Artisan Series has established itself as a platform for emerging artists who seek to shape our contemporary cultural landscape—artists who look to defy boundaries with the power of their imagination,» says Russell Simmons, chairman of GlobalGrind.com and co-founder of the Rush Philanthropic Arts Foundation. «With the extraordinary success of last year's program, I am excited to see what emerges from this year's roster of talent.»
Earlier this year, the art loving brand teamed up with Tribeca Film Festival to launch a competition for emerging filmmakers. Bambay Sapphire also holds an annual Design Discovery Award.