Starbucks goes on with renovations: after acquisition of La Boulange Bakery and introducing energy drinks, the coffee company announces it is to open its first tea outlet this fall in Seattle. In March, the company launched its first juice bar, Evolution Fresh, in Bellevue, Washington.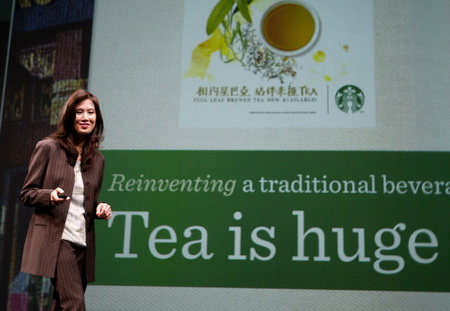 Photo: Annie Young-Scrivner, chief marketing officer of Starbucks Corp.
at the company's annual meeting in Seattle, by Kevin P.Casey/Bloomberg
The new concept store called Tazo just like the brand that Starbucks bought for $8.1m in 1999, will offer more than 80 varieties of loose leaf tea as well as everything for tea drinking. The Tazo store will also sell pastries, baked goods and packaged chocolates.
The 1,700-square-foot store will be located near the company's headquarters in Seattle's University Village.
Entering the $95 billion global tea market, Starbucks stakes on Tazo. "This store is really a tea playground with a more interactive and engaging community," said Holly Hart, a spokeswoman for Seattle-based Starbucks.  The 'hallmark' of the new tea shop will be its 'blending station' where customers will be able to create their personalized tea, says Business Week.
«It's very much about personalization and interaction and immersing yourself in all-things tea. It's not going to be the typical grab-and-go experience,» Hart said.