To celebrate UEFA EURO 2012, adidas has launched the official Tumblr football profile to share unique content from the world of football with fans.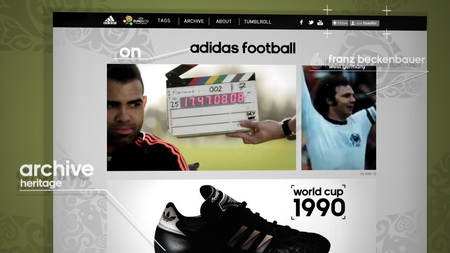 Photo: adidas Tumblr page
The profile uses Tumblr's new sponsorship opportunities to promote the brand letting it to feature the posts in the Tumblr dashboard's 'Radar' section, and utilize premium space in the Tumblr 'Spotlight.'
adidas debuts with a video created by motion graphics editor Thiago Maia that gives viewers sneak peek on what to expect from the site. The film features leading footballers including Leo Messi, Xabi Alonso, Iker Casillas, Franz Beckenbauer, Zinedine Zidane and David Beckham.
To provide fans with tip-top content during UEFA EURO 2012, adidas will be working with talented content producers that will use the latest visual techniques.  Additionally, adidas has partnered with The OMC, an ehergetic photography crew that will be capturing the emotional reactions of the fans on the game.
adidas  Football  Tumblr page will also pay tribute to the brand's heritage in football showcasing various adidas teams and players over the years. No doubt, the page will demonstrate a big variety of adidas products—via photos and specially created artwork.
Tumblr VP of Product Derek Gottfrid commented: "adidas is building a rich and engaging site with spectacular visuals to express their truly deep passion for football." 
"When a brand shares great creative content on Tumblr, our community is happy to follow along and amplify the messaging via reblog. This is the type of innovative marketing effort that we're proud to be at the heart of, and we can't wait to show it off in the Tumblr Radar and the Tumblr Spotlight."
In the end of 2011, adidas unveiled the official UEFA ball, Tango 12.