Biles Inc. is rare sort of a small creative business that breaks stereotypes about the size, having proved that it does not really matter when it comes to winning big clients. «Small agency —big difference» — that's what they stand for. Anthony Biles, the founder and Principal, told Popsop about why he decided to launch his own business, why not having a central London office is a plus point, and explained why he thinks boutique is the best format of running a design agency.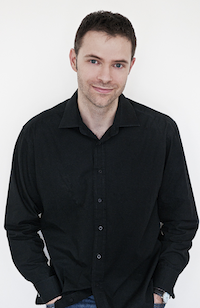 Popsop: I don't see much coverage of Biles Inc in the UK trade or design press. In 2 words, what is Biles Inc?
Anthony Biles: Raison d'être. I say this because our obsession is teasing out a brand's reason for being, telling its true story in a way consumers find compelling and engaging.
When it comes to exposure, as a relatively young design consultancy, I think we've simply tried to get our priorities right – focusing on building and servicing a solid client base before upping our profile in the industry. You could say we've not raised our voice until we've had something to talk about. But now with the recruitment of key personnel, a growing number of design awards and nominations, and a highly respectable portfolio, I think that time has come…
Popsop: How did you get into design and branding? How did your career in design start?
Anthony Biles:  Commercial Design is intellectually stimulating and highly competitive, incorporating principles of philosophy, psychology and human behaviour. These were all areas of interest for me so it seemed a natural choice.
I did a four-year degree with the third year vocation focussed. During this time I had a work placement with Smith & Milton Original, which developed into an on-going relationship over a year and a half, with me working there (on the sly without my college's knowledge) on my college free-study days and full–time during holidays. This led to my inclusion on credits for several awards, including getting my name in the D&AD book as a professional designer, when the best of peers were being capped at the student awards level. I was determined to get ahead.
After graduating from the University of London I was lucky enough to be offered six jobs with leading design consultancies. I chose to join Brand House (formely Wickens Tutt Southgate), an exciting company with a lot of energy who were working on the landmark projects such as the redesign of Tango (black can — the hit of orange).
Popsop: You spent 2 years as a Design Director at Turner Duckworth in their studio in San Francisco. How was it? Why did you get back to London?
Anthony Biles: Yes, I was headhunted to take a senior role by Turner Duckworth and spent 2 years in America working for their SF office. It was brilliant. We had some fantastic clients and exciting projects with brands such as Nike, Levi Strauss and Co., Amazon.com and The Coca-Cola Company. To be honest, I loved it, especially working with David Turner who is a brilliant designer.
My wife and I came back to the UK to have a baby, needing the familiar surroundings and family support of Blighty for this big event, and I continued working with Turner Duckworth in the London office.  At that time we had an enormous workload, were winning prestigious awards every week, and got lots of coverage and interest within the industry. It was very exciting and I learnt a huge amount there.
However, being very competitive, ambitious and driven, after 5 years I began to get itchy feet and wanted to have my own studio, building on what I had experienced and learnt.
Popsop: That is why you started your own business — Biles Inc.?
Anthony Biles: Absolutely, yes. I put all my energy in building it from ground up. We very quickly got our first client Superdrug, whom we still work with.  Our ambition was to create a boutique design agency, which would have all the ability and knowledge base of the big agencies, while delivering a better service by being more reactive, responsive, dynamic and nimble.
Popsop: So, how did you get your first client?
Anthony Biles: Well, it's immensely difficult to get a client as a new agency with no company portfolio. I was lucky that when Superdrug heard I was leaving Turner Duckworth and launching my own agency, they invited us to take part in a roster pitch against twenty other major players, which they were running at that time – our pitch was successful!
Popsop: What are your areas of specialization?
Anthony Biles: All our work surrounds brands, branding and visual communication.  Bringing design and strategy together.
Roughly 50% of our work is in packaging and FMCG brand development while the other 50% covers other areas of brand communication including print, identity, retail and environment, digital design, naming and copy writing.
In terms of sectors and categories, we have worked predominantly in beauty, skin and hair care, drinks, food, jewellery and fashion. We actually relish any marketing challenge where we feel we can use creativity and visual communication to add value to a client's brand, and generate tangible commercial results.
Popsop: Are your clients rather small or big companies? I see that you work with both types: from Kallo Foods to Shell?
Anthony Biles: That is true. We try not to pigeon-hole ourselves. It is not our client base that defines us, but our creative process and attitude, which can be applied to any client or project no matter its size or situation. Shell and Kallo are very different companies, but they are both looking to communicate an important message to a key audience through visual communication, and that's where our expertise comes in. We have a very efficient process, which is all about building brand equity and driving results.
While are clients are predominantly UK based, we have many from across Europe, and several from the US, Australia, India and Africa. We would definitely be interested in working with companies and brands from other countries such as Russia, China and Brazil, especially if they were looking to buy into British design excellence and approach, which at its the top end, is for me, the best in the world.
Popsop: Why haven't you set up office in London? Why Kingston upon Thames?
Anthony Biles: We are actually based in Thames Ditton, which is just a stone's throw away from central London. This is a beautiful part of the world, and we work in an old boatyard that backs on to the River Thames. Our clients love it, and being based here helps us to keep our costs down, which ultimately our they benefit from. Of course, we could have an office in Soho or Mayfair with a marble hallway, an expensively furnished meeting room and modern art dotted around, but this would result in higher costs to the business, which clients pay for downstream. So especially in a current economic climate, not having a central London office is a plus point.
Popsop: What are the core values behind your company? How would you define a brand «Biles Inc» in 5 words?
Anthony Biles: I think the 5 words are: excellence, honesty, concept (or idea), creativeness and result.
Excellence – because we strive for perfection. Honesty – we are genuine people and we believe that there is a story; a truth behind all brands (it just needs to be found and expertly expressed). Concept – every design that we generate has as an idea and a reason behind it. Creative – we push ourselves to create something that hasn't existed before, or reinvent and reinvest in something and add value to it. Results – clients need a return on investment, we always put the client's needs first, which is one of the reasons we have recently been awarded with the Gold at DBA Design Effectiveness Award.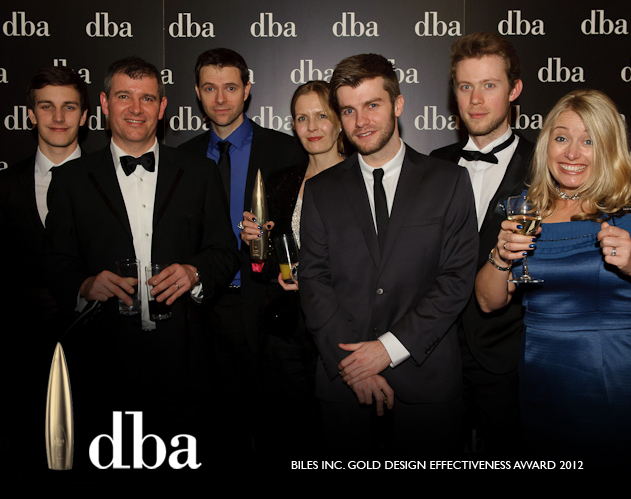 Photo: DBA Design Effectiveness Award ceremony, 2012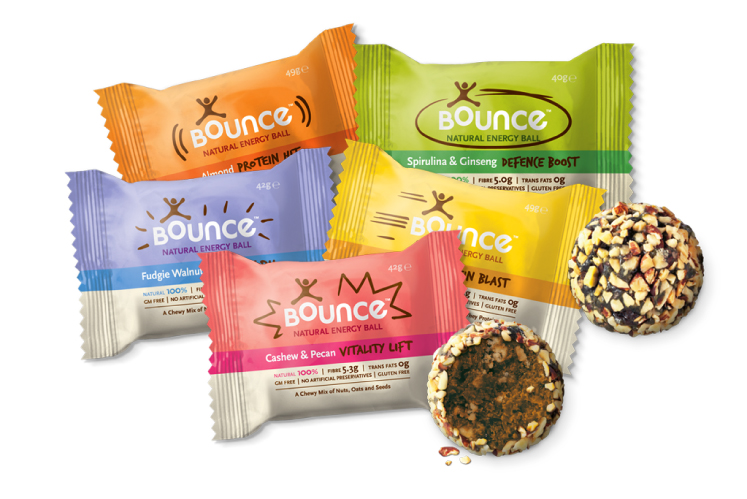 Photo: Bounce Balls packs
Popsop: For Bounce Balls? Why do you think that package design was so commercially successful?
Anthony Biles: It communicates up front (on front of pack) the value of the product – thus justifying its expensive price tag. It made clear that buying quality can still be good value – even when more costly than the competition. And within a year after redesign Bounce sales grew up by 95% with no advertising support or promotions.
We are strong advocates of form follows function, meaning the functional needs of the design drives the way the design looks, we acquire a profound understanding of the brand, its competition, its audience and the marketing challenges and then turn this into a simple, engaging visual solution. We did just this for Bounce.
Popsop: Which lessons have you learnt over the years in design business?
Anthony Biles: Always be true to your principles; there are a lot of forces at work that impact upon the design process and can heavily affect the outcome including the client, consumer research, technical constraints, financial constraints, and time constraints. Obviously we need to accommodate these but make sure the tail doesn't end up wagging the dog, seeing set backs and constraints as opportunities, otherwise they become compromises and it will be these external factors that shape the work, not your experience and knowledge.
If you strive for excellence in your work, you need to be relentless, and go that extra mile every time – whether it is the design, concept, research, client servicing or whatever, always push yourself to the limit.
A golden rule is do your business development when you are busy, not when you are quiet. A classic mistake of the smaller agency is being too busy to develop the business, and then finding once you're quiet that its too late and you've stopped generating income.
Personally, I believe that boutique is the best for a design business – i.e. smaller with a higher concentration of hands-on expertise and experience. It provides that level of dynamism, excellence and flexibility which the big agency could never achieve.