Apple presented the hardware and software updates of its products at its WWDC yesterday. The key changes include the revamped MacBook range and new Mountain Lion OS X features as well as the introduction of iOS 6.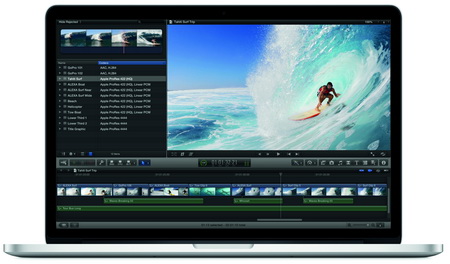 Photo: MacBook Pro with Retina display
The MacBook Air and MacBook Pro were significantly updated with the third generation of Intel Core processors. The new MacBook Air and the 13-inch MacBook Pro now sports a dual-core Core i5 or a Core i7 processor and the 15-inch MacBook Pro features Intel's Core i7 quad-core processor. All MacBooks also come with an Intel HD Graphics 4000 processor, two USB 3.0 ports, and a 720p FaceTime HD camera.
The lineup now boasts of a new 15-inch MacBook Pro with a 2880×1800 pixel Retina Display, which means four times the pixel density of the previous model. Moreover, this MacBook Pro has become thinner—it is only 0.71 inches thick and weighs 4.46 pounds (2 kg). The new MacBook Pro boasts of two Thunderbolt ports, two USB 3.0 ports and an HDMI port and offers up to 768GB of flash storage.
All new models are already available for order. The 11-inch MacBook Air starts at $1,000; the 13-inch MacBook Air starts at a hundred more, while the 13-inch MacBook Pro starts at $1,500 and the 15-inch MacBook Pro (without a Retina display) is priced at $1,800. The all  new 15-inch MacBook Pro with Retina display starts at $2,200.
The new iOS 6 introduces more than 200 new features. It includes upgraded Maps app, new Siri features, Shared Photo Streams, the completely new Passbook app, and Guided Access feature for educational purposes. And now Facebook is integrated into many of iOS 6′s apps, including Notification center, Siri, Photos, Safari, and Maps. And similar to Mountain Lion, your Facebook friends' information will appear in the Contacts app. One of several new apps include Passbook, an app that collects all of your passes in one place.
"iOS 6 continues the rapid pace of innovation that is helping Apple reinvent the phone and create the iPad category, delivering the best mobile experience available on any device," said Scott Forstall, Apple's senior vice president of iOS Software.
Additionally, Apple previewed new features that will offer the upcoming OS X Mountain Lion. It will be more like iOS featuring a new Messages app, Notification Center, Reminders, Notes, and Game Center. OS X Mountain Lion will be available in July for $20.
Apple revealed the third version of its iconic device, iPad, in March.