Digital is becoming increasingly effective and, thus, more valuable channel for brands to engage with their consumers. Not surprisingly, clients' budgets for digital and social media comms are on the rise, while some traditional marketing spends (for some particular consumer brands) tend to shrink.
Now it seems that adding a successful digital expert to a plethora of network-owned traditional full-service ad agencies is becoming a hot trend for the world's media giants this year.
Hot on the heels of the recent (on the 20th of June) acquisition of the international AKQA by WPP for $540m, Omnicom Group is rumored (not strangely, along with Publicis and Havas) to be up to buy the Amsterdam-based international independent strong digital player LBi for an estimated $575m. Neither of the three holdings have confirmed or denied talks about a possible sale so far.
AKQA is currently employing 1,160 people worldwide – from software engineers and technologists to creatives and strategists and operating through offices in the US (San Francisco, New York, Washington DC), Europe (London, Paris, Amsterdam, Berlin) and Asia (Shanghai). The agency had gross assets of $282 million as at 31 December 2011 and forecasts revenues of around $230 million in 2012, having achieved $189 million in 2011.
As a comparison, LBi, headquartered in Amsterdam, has operations in 17 countries and a staff of approximately 2,120 experts. In 2011 the company had a turnover of $250m and net profit of $14.5m.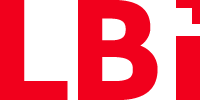 Photo: LBi's corporate logo
Meanwhile, both giants — Omnicom and WPP — are on the lookout for the new gems on the so-called «emerging» markets and this is the second hot trend in their M&A moves.
Less than a month ago, following an acquisition of Adam & Eve London-based communications agency, Adam & Eve, Omnicom Group CEO John Wren has publicly stated that the company is rather focused on buying businesses in emerging markets. Last year, Omnicom's acquisitions included deals in India, Turkey and South Africa.
In the same fashion, WPP is looking towards Asia and Eastern Europe.  Earlier in May it was announced that WPP's Possible Worldwide had bought a majority stake in Grape, a Russian digital agency, headquartered in Moscow, for an undisclosed amount. This acquisition in Russia precedes the purchase of a Turkish digital agency, the Istanbul-based 41?29! this January.