Avon continues the Hello Green Tomorrow project, launched in 2010 and continued in 2011, to motivate people globally to help restore 'lungs of the earth,' critically endangered tropical forests of South America and Indonesia. The initiative coincides with the UN World Environment Day in June.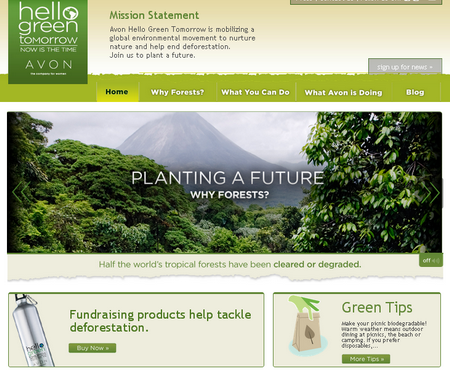 Photo: the Hello Green Tomorrow web site, a snapshot
In two years Hello Green Tomorrow generated more than $3.5 million and restored thousands of acres through partnerships with The Nature Conservancy and World Wildlife Fund. Avon hopes to raise much more in 2012, because the forests are still in danger.
Avon launches Hello Green Tomorrow 2012 products in 51 countries around the world, and all proceeds will go to The Nature Conservancy for restoration of the Atlantic Forest in Brazil and to World Wildlife Fund to help restore the tropical forests of Indonesia (Borneo and Sumatra), which are in the most critical state now. A dedicated digital platform offers information on forests and deforestation, green tips, a blog and opportunities to share ideas on personal environmental action.
All products are available through 6.4 million independent Avon Sales Representatives and through the Avon e-commerce sites. In addition,Avonis educating its sales representatives and customers using '5 Simple Things': Reduce, Reuse, Recycle, Rethink, Replant.
The fundraising products include: the new Eco Hero Bracelet; a t-shirt collection, sold exclusively in Brazil; a reusable aluminum Hello Green Tomorrow Water Bottle, available only in the U.S. and more.