Following the example of many alcohol brands, which collaborate with music bands or artists—Jack Daniel's and Jim Beam to name just a few, Diageo's whiskey brand Bushmills launches a website featuring visual collaborations electro-funk duo Chromeo and other artists such as Bon Iver and Foy Vance. Their tracks can be heard on the new website, which was created and launched by Pulse Group to strengthen the Irish whiskey brand positioning and make it more appealing to a younger generation of drinkers.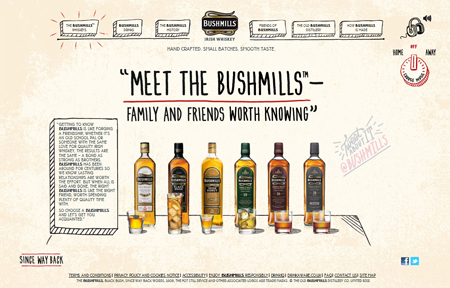 Photo: A snapshot of Bushmills new website, www.bushmills.com/#BMTheBushmillsWhiskeys
The new platform is designed in the DIY-style—the paperboard background and the 'black ink' handwriting type were used there,—which definitely adds to the handicraft feel of the product. The website, which has the 'Since Way Back' tagline, is highlighting the rich heritage of the brand and reaching out to the younger consumers at the same time. In the 'Friends of Bushmills' section, the brand lists celebrities and professionals including founder-editor of Men's Style website Michael Williams, rapper, songwriter and producer Theophilius London, and world-renowned actor Elijah Wood among others.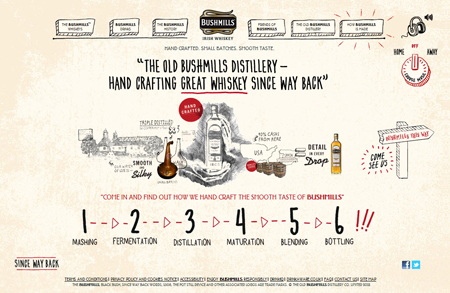 Photo: A snapshot of Bushmills new website, www.bushmills.com/#BMTheBushmillsWhiskeys
Visitors to the online destination can also learn more about the drink in the Bushmills History section and the way it's crafted in the How Bushmills Is Made section, as well as see the whole range of Bushmills options. "Getting to know Bushmills is like forging a friendship, whether it's an old school pal or someone with the same love for quality Irish Whiskey, the results are the same—a bond as strong as brothers," says the brand on the website. "Bushmills has been around for centuries so we know lasting relationships are worth the effort. But when all is said and done, the right Bushmills is like the right friend, worth spending plenty of quality time with. So choose a Bushmills and let's get you acquainted."