Coca-Cola continues its Olympic campaign preparing to roll out a TV show that complements the Move to the Beat global campaign and is titled 'Beat TV.'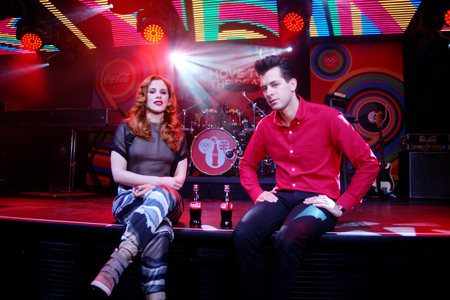 Photo: Mark Ronson and Katy B from Move to the Beat campaign
The original series features 10 episodes that will air on weeknights from July 30 through August 10 through a variety of broadcast partnerships, says Ad Age. The episodes will show celebrity and athlete being interviewed, live musical concerts and the Beat Bus, as well as a mobile pop-up studio. The show will be used by Coca-Cola marketers in more than 30 countries of the world in English, German and Spanish as well as with subtitles to target teens.
«We're filling out a need and desire. Sometimes you have games coming and going and you get a lot of info on the event, but you miss out on what it would have felt like had you been there,» said Claudia Navarro, the company's global Olympic marketing director. «Instead of focusing on what's happening on the pitch, the medalists. … We'll capture the vibe of London, the social aspect of it for the fans.»
In several countries MTV is a distributor of the show. In the U.K., 'Beat TV' will air on ITV2, while the partner in the U.S. is not found yet. The episodes will air mostly in a 30-minute format, though in different countries the show length may vary. This is to give Coca-Cola marketers the opportunity "to cut snippets or place it digitally,» Navarro said.
Other advertisers will also be able to buy air time during the episodes. Anyway, Coca-Cola branding on 'Beat TV' won't be open, though it will be clear that the brand and its Move to the Beat campaign is behind the show.