Coca-Cola UK unveiled the Olympic Torch Relay commemorative bottles to celebrate the people who are carrying the Olympic Flame during its 70-day journey around the UK. Ahead of the great sportive event, which will open in less than two months, on July 27, the iconic soft drinks brand presents a plethora of special edition designs, which pay tribute to the athletes and sports. This set of Coca-Cola and one Coke Zero bottles pays tribute to those who are sharing their time and devotion to help the Olympic spirit spread vast all across the country and the planet.
Two of the new bottles are being handed out along the route of the London 2012 Olympic Torch Relay and the other six are going to be given out in the Olympic Park. Overall, these are eight aluminum bottles, three Coca-Cola Zero with yellow, red, blue and black stripes on the neck and the black background below, two Coca-Cola bottles with the legendary Union Jack pattern and the same stripes as described above, one with the stripes and the red background, and two Coca-Cola bottles with the Union Jack design in gold and light-blue.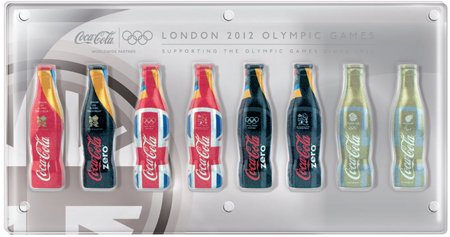 Photo: The 2012 Olympic Torch Relay bottles
In addition to this, as a Presenting Partner of the Olympic Torch Relay, Coca-Cola is celebrating its Future Flames by bringing music to every corner of the UK during the evenings of celebration taking place almost every night of the London 2012 Olympic Torch Relay. These celebrations will culminate in a spectacular finale concert in London's Hyde Park on July 26, the night before the Opening Ceremony.