Coca-Cola is committed to supporting young filmmakers by launching numerous cinematic competitions targeted at younger creative talents—directors, scriptwriters, cameramen and producers—under its major brands. This time, the Coke Zero diet soda brand and MOFILM are inviting aspiring film producers to compete for a chance to work with Forest Whitaker and Phillippe Caland from Junto Box on developing a script for a feature movie.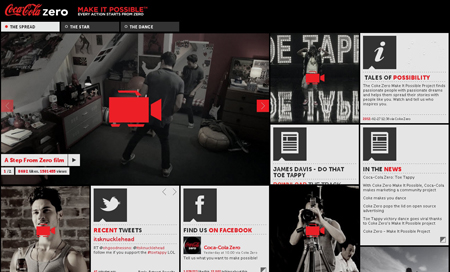 Photo: A screenshot from the www.makeitpossibleproject.com website
Emerging filmmakers are invited to submit their 60-90 second teaser, unveiling the idea of the film they are going to make based on the brief, which can be found on the website. "We want stories of romantic possibilities based around the idea that some of the best-action-creates possibility moments happen on the weekend, particularly Saturday nights. We want you to think about what it takes to decide and act on an object of desire. Give us a film that is inspired by a true story—it's the foundation of Coke Zero's storytelling," states the brief. The shortlisted entries will be then displayed on the Make it Possible Project website, where people will be invited to help select three finalists and track the creative process.
In early October, the selected entrants will be then asked to create the final 10 min films, funded by Coke Zero, and the brand will also encourage to document the cinematic execution and share the footage with the community. The three works created by the finalists will be judged based on creativity and originality, the grand winner will be selected in 2013 and will fly to Los Angeles, where he or she will be mentored for a day by Forest Whitaker and Phillippe Caland.