Christian Dior is promoting its Dior Addict fragrance line in an international social media campaign that includes various Facebook and Twitter activities, a mobile app and a short film.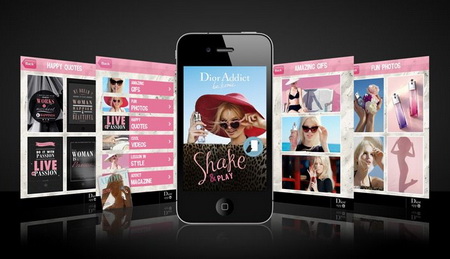 Photo: Dior Addict app, from Dior Facebook page
First, in the beginning of the month, Dior launched an Addict Facebook app, which is a game where users had to find the 'Dior Addict Frequency' by clicking on an old-fashioned radio bar until they find the correct radio frequency. As soon as they have found it, a teaser for the film appeared. The almost 3minutes long film debuted on June 20.
Entitled 'And Dior created woman,' the video is created in aesthetics of the cult film by Roger Vadim. It features model Daphne Groeneveld. She is shown lying on the beach and walking through Saint-Tropez and seducing males with her easy style and unconventional manners demonstrating viewers what a real Dior lifestyle means or "the art of seduction and being free by Daphné Groeneveld," as Dior says. The soundtrack is a lively song 'I love you Ono' by Stereo Total.
Users are also offered exclusive backstage footage from the film shooting, tips on style and make up and they are encouraged to create their own 'Addict' magazine cover.
The campaign targets younger, affluent consumers who may not be able to buy a Dior handbag or apparel, but could feel like they are part of the brand through purchasing Dior Addict fragrances.
In one of its previous campaigns, Dior also used social videos—the company launched a short comedy film called L.A.dy Dior Hollywood starring brand ambassador Marion Cotillard who introduced its new handbag line. There was also an exhibition entitled 'Lady Dior As Seen By' in Beijing.