Dos Equis, a Mexican beer brand, has announced the launch of the new stage of its Most Interesting Academy, which was created to inform fans and give them tools to lead an extraordinary life.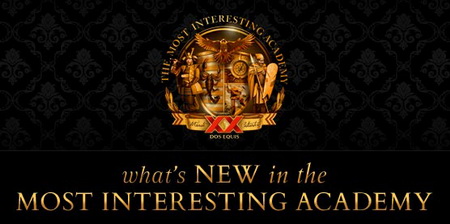 Photo: Dos Equis Most interesting Academy, from mostinterestingacademy.com
The brand created an interactive online community at MostInterestingAcademy.com offering users entertaining content created by notable bloggers and artists, the Academy provides all the elements to keep life interesting.
Dos Equis has also launched a competition motivating users to share their adventure-related desires with the Academy online community for a chance to win the 'Stay Thirsty Grant' grant of up to $25,000 to let their dreams come true.
«Connecting Dos Equis fans with some tangible and unique experiences that will enrich their lives is what the Most Interesting Academy is all about», said Paul Smailes, Senior Brand Director at Dos Equis. «We are also thrilled to be giving our most passionate and ambitious fans an opportunity to make their dreams come true with the Stay Thirsty grant. We can't wait to see the applications.»
Dos Equis plans lots of events till the end 2012, including two main happenings in Austin and New York City during which people will be entertained with musical performances and events such as culinary tasting journeys. Moreover, the beer brand will launch a nationwide mobile trucks campaign with unique global cuisine, Tough Mudder sponsorships.
The Most Interesting Academy has its own Board of Experts that includes the former professional football player and world traveler Dhani Jones, culinary pioneer Craig Thornton and contemporary collage artist Michael Anderson. The experts participate in all events and encourage fans.