Honda makes curiosity a new theme of its new promotion, which has been created to support the auto brand's carmaker's sponsorship of documentaries on the U.K.'s Channel 4. The cars manufacturer has teamed up with Wieden+Kennedy London for a series of simple but impressive spots, which are revolving around things around us that inspired many of Honda's engineering and design solutions in both vehicle and motorbike lines and lawn & garden ranges.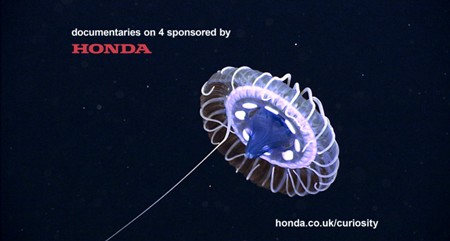 Photo: A screenshot of one spot in Honda's'The More We Look, the More We Learn' series
The series of ads is titled 'The more we look, the more we learn' and inspires audience to see the origins of stunning technologies and design approaches in simple and well known things. In the 15, 10 and 5 second spots, which work as bumpers between the adverts, Honda highlights the connection between things we experience, see and use every day and the technologies, which are behind key features of Honda vehicles and motorbikes. For instance, the movements of the CR-V's adaptive headlights takes a lot after the movement of the human eye, and the way airbags work on the Gold Wing motorcycle is very similar to how a frog blows it cheeks. In just a few seconds, they show a 'background' of the technological approach they used, several familiar things that inspired the solution—in the 'Foldup' spot they first show the historic castle gates hung on chains, a foldup seat in the theatre and finally a folding seat in the Jazz model. Watch the spots here.
"This new campaign for our continued sponsorship of documentaries on Channel 4, focuses on how Honda looks at the world differently & takes inspiration from the world around, which ultimately leads to more innovative products. Stories identified are told in an interesting & visual way which really stands out and we hope is intriguing to the audience," shared Martin Moll, Head of Marketing, Honda UK.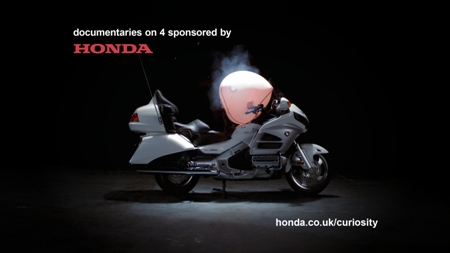 Photo: A screenshot of one spot in Honda's'The More we Look, the More we Learn' series
For those who want to test their curiosity and win an invitation to a major auto show, Honda also has something in stock. The brand has teamed up with Collective London to launche a nice 'How curious are you?' online test, in which the brand invites users to choose one of the three options answering questions like "Who inspired Nichola Appert to invent the tin can in 1810?" or "Where would you find this" going with picture featuring a lunar-like surface. On completing the test, users are invited to enter their personal info to get into the sweepstakes for a chance to win a VIP trip for two to the 2012 Paris Motorshow for the public unveil of the new European CR-V.