Having done an in-depth research on the nature of luxury and how it has evolved in the current economic environment, Interbrand directors Manfredi Ricca and Rebecca Robins introduce the new term «meta-luxury» with the release of the new book «Meta-luxury: Brands and the Culture of Excellence«, published in the USA in English this month.
In this brand-new analysis authors set out to define the ultimate meaning of true luxury, exploring it as both a culture and business model and observe the rise of meta-luxury, a cultural and economic paradigm based on four pillars of Craftsmanship, Focus, History and Rarity.
Ricca and Robins contend that the term 'luxury' has been 'overexposed, overstretched and diluted' and coin the term 'meta-luxury' to recognize what is 'beyond' a word that is now devoid of meaning.
The book is a must-read for brand owners, who used to define their area as 'luxury' market. It contains a series of exclusive conversations, a diverse array of business leaders, creators, masters of excellence and academics share their unique perspectives on the culture of excellence.
"This book was inspired by our firm belief that true luxury is about passing the culture of excellence across generations" commented Ricca and Robins. "Meta-luxury brands challenge conventions about concepts such as craftsmanship, innovation, pricing, extension and profitability. We hope that Meta-luxury will help change the debate on luxury."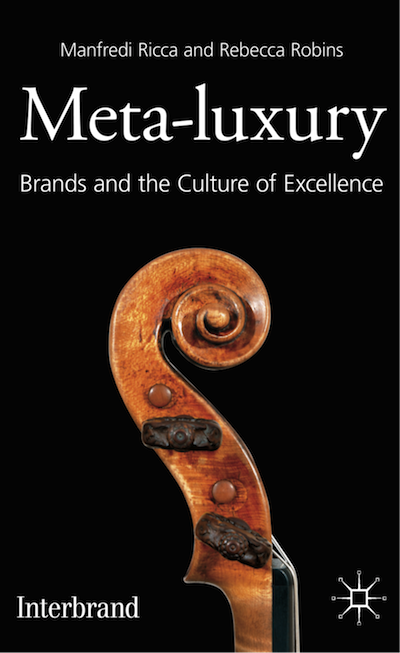 The front cover of the book
Now available at Amazon.com at http://www.amazon.com/Meta-Luxury-Culture-Excellence-Manfredi-Ricca/dp/0230293573