As an official worldwide partner of the London 2012 Olympic Games, glacéau vitaminwater has teamed up with international pop superstar—Jessie J—to add the fun into the heart of the games—all games—through a first-of-its kind music video game.
«Since the beginning of time, people have been playfully competitive. But as we get older, we tend to lose the playfulness and just become competitive,» explained Rodolfo Echeverria, Vice President of global active lifestyle beverages, glacéau. «That's why vitaminwater is a part of the Olympic Games, to bottle up the fun of London 2012 and share it with our fans worldwide.»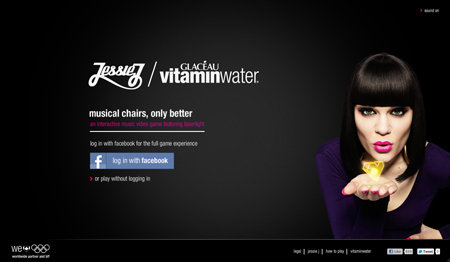 Photo: A screenshot from the Jessie J and glacéau vitaminwater's online game
Powered by the spirit of the Games, glacéau vitaminwater and Jessie J collaborated to create the artist's video for her latest top 10 single, 'Laserlight.' They then took the video and made it even better by creating Musical Chairs, an online music video game that allows fans to play together from around the world.
«Just like we took hydration and added great taste and vitamins, we are taking familiar games that people around the world can relate to, and making them 'only better'—like Musical Chairs,» says Echeverria.
Launching in early June on gamesonlybetter.com, the game takes exclusive footage, cool graphics, prizes, and Jessie J and packs them into an interactive site. Musical Chairs will be available in 20 countries and translated into 6 languages. Players have the chance to win coupons and other unique rewards, including tickets to 'Jessie J, Live in London'—a one-night-only, Games-time spectacular featuring Jessie J at the historic Camden Roundhouse. Prizes vary by geographical market.
Musical Chairs will double as the actual music video for 'Laserlight' the final single from Jessie's inaugural album Who You Are. «Laserlight is about my fans. They are the ones who make me feel like I can live my life and my dreams another day, every day,» says the singer. «They are my light, it's all for them.»