The fan communities of Nike are Levi's have been united by great news—the two apparel giants have collaborated on a new collection, which will arrive in stores across the globe in mid-summer. The new line of high performance denim for skateboarding marries the style and approaches of the two apparel gurus. According to the note on the official Nike website, "the 511 Skateboarding is built specifically for skateboarders and integrates Nike's innovative Dri-FIT and vectran technologies, coupled with Levi's timeless design, meticulous craftsmanship, and popular fit of the 511 Skinny."
The limited-edition collection will be released in two stages—fist is slated for July 4 and the second is planned for August 1. As part of the creative collaboration, the brands teamed up with Nike team rider Omar Salazar to develop a new version of the skater's signature shoe, the Omar Salazar LR priced $85, which will be available in early July along the 511 Skateboarding Team Edition priced $198. To raise awareness about the new partnership, the brands released a promo black and white video starring Omar Salazar, who is demonstrating his amazing skateboarding skills wearing the 511 Skateboarding pieces.
Nike informs that the 511 Skateboarding Jean will be produced in two versions and multiple colors and washes, providing superior fit, unparalleled performance to those who buy these items. Nike and Levi's have also designed a denim Trucker jacket as well as a line of co-branded Nike Skateboarding shoes, the above-mentioned Omar LR and the Nike Pro Dunk Low, which help boost skateboarding experience.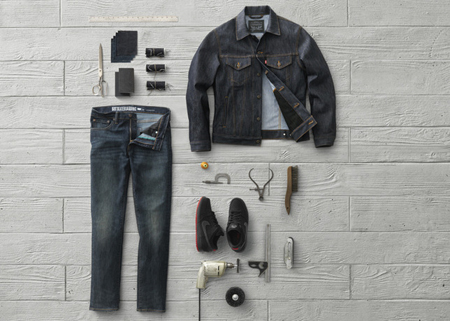 Photo: Nike and Levi's 511 Skateboarding Denim, www.nikeinc.com