To promote its Nikon 1 J1 camera and help raise money for The Ronald McDonald House, Nikon has launched the 'Small Moments are Huge', an online photo gallery on the brand's U.S. Facebook page that celebrates beautiful moments of everyday life.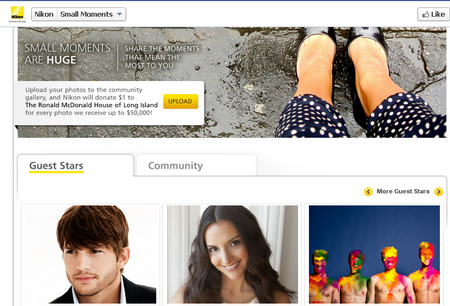 Photo: 'Small Moments are Huge,' a snapshot of Nikon Facebook page
Nikon has signed some of the most popular and influential personalities in television, film, music and technology, who created photos for the gallery using Nikon 1 J1 cameras. The portable and stylish camera features Nikon 1 system that boasts of high speed performance and a compact interchangeable lens system.
The celebs team include actor, producer and social media influencer Ashton Kutcher; actress and recording artist Hilary Duff; Derek Hough from Dancing with the Stars; lifestyle expert and tech startup CEO Brit Morin; and documentary makers Dave Lingwood, Ben Nemtin, and Duncan and Jonnie Penn of The Buried Life.
"Nikon encourages people to capture and share memorable moments in their lives, big or small, and with the introduction of the Nikon 1 advanced camera with interchangeable lens system, we're making it easier for consumers to capture these moments through high quality images with confidence," said Lisa Baxt, senior communications manager for Nikon Inc. "Through the Small Moments are Huge program, people will get the chance to share the important moments in their lives in an online community where everyday inspiration and fun can be celebrated."
Fans can also upload their photos to the community gallery on Nikon's Facebook page. There are various categories including Exploration, Accomplishments & Challenges, Love, Humor, Peace & Comfort, Joy, Sweet & Savory etc. For every photo uploaded, Nikon will donate $1 to The Ronald McDonald House of Long Island up to $50,000. The charity provides a home-away-from-home for families with sick children.
Nikon is also now accepting photos for its 2013 Small World competition that is held annually.