Voting for one of the presidential candidates, people usually place economic, social or political programs on the top, but the environmental issue influences the picture of our future as well. The outdoor, surf and sport-related apparel manufacturer Patagonia, which focuses on ecology in most of its promotions, has launched a new campaign titled Vote the Environment, encouraging Americans to consider candidates' environmental records before voting in November.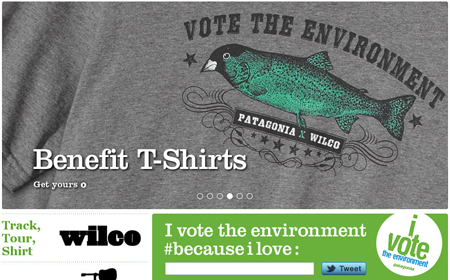 Photo: Patagonia's Vote the Environment campaign, a snapshot from the www.patagonia.com website
As part of the promotion, the brand has teamed up with rock band Wilco, the non-profit HeadCount and the League of Conservation Voters, to spread the message across the country. The campaign includes both offline promotions (the band's tour) and online activation, a Twitter campaign revolving around the #becauseilove hashtag. The activation in the micro-blogging service will enable customers at Patagonia venues or visitors to Wilco to shows their dedication to most environmentally-minded voting and tweet a message or upload a picture which finishes the 'I vote the environment because I love …' statement in support of the 'environmental' elections.
Their messages will pop up on dedicated screens in real-time at shows of the band as well as in Patagonia venues across the country and online at Patagonia.com, so any person who contributes their personal content to the campaign in the form of a text or an image, will be heard. People who choose the candidate based on his eco views, also can make a statement by purchasing a tee or music. In support of HeadCount, "a grassroots organization that uses the power of music to register voters and raise political consciousness," Patagonia has created a special edition T-shirt featuring a weird bird-fish print and priced at $35—$5 dollar from each tee purchased will be donated to the non-profit. In addition to that, people can by an exclusive version of Wilco's song 'Whole Love,' which is the title track from their Grammy-nominated album The Whole Love—HeadCount will be donated 100% of the proceeds from the sale of this track.
"People protect what they love. It's time to hold our candidates accountable to environmental issues: if you care about clean air and water, how do the candidates on the national, state and local levels measure up on those topics? Get informed before casting your vote," commented Patagonia's founder and owner Yvon Chouinard.