Pepsi and Billboard have teamed up to launch the 'Summer Beats Concert Series,' a project that will use Twitter to broadcast performances by Billboard chart-topping artists. The 'Summer Beat' is an extension of Pepsi's 'Live for Now' global campaign and its long term partnership with Twitter.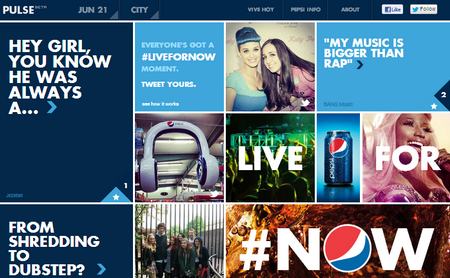 Photo: Pepsi Live for Now, a snapshot from pepsi.com
The initiative kicks off on June 26 with a surprise performance in Los Angeles.  At the end of July there will be a Nashville concert followed by an event in New York City in late August.
Fans around the globe will watch the concerts via the Pepsi Twitter page livestream and influence elements of the performance in real-time.
«The Summer Beats Concert Series truly brings Pepsi's Live for Now mindset to life by offering fans the ability to interact with and impact a live concert event,» said Javier Farfan, Senior Director of Cultural Branding at PepsiCo. «This component supports our overall Twitter program by inserting spontaneity and social media engagement into the concert experience and changing the way fans enjoy music.»
Pepsi will also present the 'Billboard Songs of the Summer' chart that ranks the most popular songs of the summer season on Billboard.com.
In addition, Pepsi that has recently partnered with Viacom will give away tickets to a Summer Beats concert.  Fans can enter the sweepstakes by tweeting images of their 'Live for Now' moments using a dedicated hashtag. Winners will be able to document their experience as the exclusive Pepsi NOW Photo Correspondent.