Pepsi extends its global 'Live for Now' campaign by partnering with Viacom for this summer. Within the partnership, Viacom unveils a special program that inspires consumers to share photos of their NOW moments. Participants are being lured with a chance to be seen on-air and experience exciting events.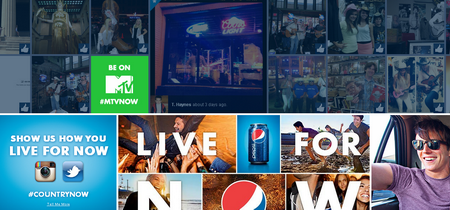 Photo: CMT initiative for the 'Live for Now' campaign,
a snapshot from www.cmtlivefornow.com
Viacom will roll out an integrated on-air creative and the initiative will be promoted on social media including the Twitter handles of MTV, Vh1, CMT and Comedy Central. By tweeting images, fans enter the program for a chance to win exclusive prizes. Each Twitter handle has its own prizes. For example, those who tweet images with hashtag #playnow enter to win a chance to be featured throughout the summer on VH1's national morning show, 'Top 20 Countdown.' Comedy Central offers consumers to attend the filming of the Colbert Summer Music series in August.
«With 'Live for Now,' Pepsi has created the perfect summer rallying cry for our networks' audiences, who are constantly connected and always on the cutting edge of culture,» said Rachel Baumgarten, Senior Vice President, Integrated Marketing, MTV Music Group. «Together, we're giving fans the chance to turn the simple act of sharing their own great moments into experiences at the hottest summer events on CMT, VH1, MTV and Comedy Central.»
All fans that tweet images with the appropriate MTV, VH1 or CMT hashtags will be able to win tickets to attend one of Pepsi's Summer Concerts for two. They'll become Pepsi NOW Photo Correspondent at the concert and have selected photos featured on-air.
The Pepsi and Viacom partnership is slated to run until September 2012.