The fashion giant Prada has recently teamed up with artist and designer Vahram Muratyan to create an unparallel presentation of the new items of the brand's latest collection. The fashion house unveiled a series of animated pictures by Muratyan, in which accessories got integrated into the everyday environment in a totally unexpected way. The 'Parallel Universes' experience has been taken to the official Prada website, where images can be views and shared via social media by clicking on the buttons.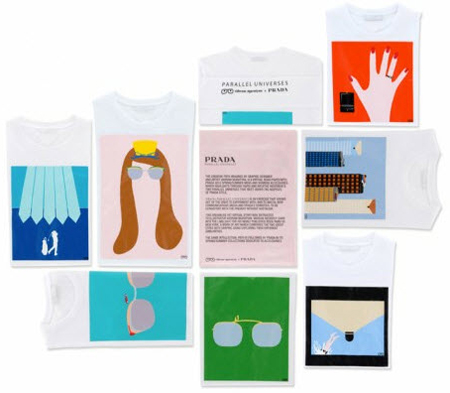 Photo: Prada x Vahram Muratyan's t-shirts, www.highsnobiety.com
For instance, in one picture, handles of a Prada Pyramide Bag become a wheel, in the other one Prada Rocket Shoes are depicted as earrings or roof. Created in the minimalistic style, these visuals are full of bright colours and life, mirroring the brand's SS2012 collection of accessories. Building on the success of the digital cards, Prada is also going to release a line of T-shirts featuring the playful graphics from the Parallel Universes project. The new capsule collection is set to arrive at Prada stores across the globe in mid-July.
"The creative path imagined by graphic designer and artist Vahram Muratyan, is a virtual road paved with Prada 2012 spring/summer mens and womens accessories, which highlights through rapid and intuitive movements two parallel universes that meet under the auspices of Prada style. Prada parallel universes is an exercise that grows out of the drive to experiment with, and to match, new communications media and Prada's semiotics; to be consistent with the present without nostalgia," reads the brand on the new collaboration.