Popsop interviewed PepsiCo's Brisk Iced Tea brand manager, Chris Oates, who shared his insights on Brisk's successful efforts in engaging one of the most influential and growing population segments, the urban multi-cultural Millennials in the U.S.
With the goal to maximize its partnership with Star Wars, Brisk developed a unique and authentic interactive program, the "Brisk Bodega," where we engage legendary hip-hop producer, Just Blaze, and a diverse group of artist to bring an art gallery to life for male urban Millennials.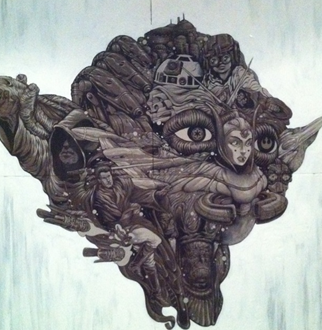 Popsop: Why do you think so many brands from different sectors have recently turned their marketing strategies from selling an actual product to becoming «lifestyle gurus»?  For instance, Nike doesn't sell just sportswear any more, it sells the feeling of freedom and being a hero. As well as Apple doesn't sell technology products, it does sell you the feeling of being better connected with the world in the most modern way… Why Brisk, along with other LRB brands in PepsiCo's portfolio doesn't sell "just refreshment" any more?
Chris Oates: At Brisk we understand the wants, needs, and beliefs of our target consumer – young male Millennials. We know they want to be entertained but connect with us on their terms and in their territory. We also trust our community of fans to help us develop the brand and we meet them in an authentic way and I think they appreciate that. Also, when building our campaigns we make sure we incorporate the Brisk big bold flavor variety message in every promotional touch point while providing consumers with valuable content.
Gaming and smartphones are a big part of the lives of millennial males. So, this year, in partnership with Star Wars with the launch Episode I The Phantom Menace in 3-D, we created a mobile app that engaged our fans in a unique way, by directly tying game content unlocks to codes on specially marked one-liter bottles of Brisk. To take it further, Brisk partnered with Xbox with the release of Star Wars Kinect. For a limited time, one-liter bottles of Brisk featured a Microsoft tag (M-Tag) on the label, which allowed gamers to unlock an exclusive Anakin Podracer experience in the highly anticipated game.
Our latest initiative (still in development) is a social campaign tied to the Brisksaber app, which will allow our Facebook fans to choose what new characters we include in the game.
Popsop: You define Brisk's target audience as «urban multicultural millennials». In more detail, how old and which sex are they? What social and cultural background do they have?
Chris Oates: Brisk's primary target audience is 18 – 29 year old Millennial males.
Popsop: Why did you decide that Star Wars would be of interest to this particular group? Did you conduct any specific research/ focus groups etc? (If so, what research agency do you partner with?)
Chris Oates: We're always inspired by creativity and looking for fresh and authentic ways to work with artists—from emerging talent to seasoned pros like Lucasfilm. There's not a bigger property out than Star Wars. Not only is it relevant among our Brisk target of young millennial males, but the force of Star Wars spans all generations. We knew that the iconic Star Wars characters would inspire us from a creative standpoint to engage our fans with that Brisk edge they've come to expect.  Our timing also aligned perfectly with the long-awaited release of Episode I The Phantom Menace in 3-D.
Popsop: Who usually comes up with the creative idea of a new marketing initiative: PepsiCo's internal marketing department or your creative agency (is SF-based Mekanism your long-standing advertising partner)? Who personally was the author of the idea of Star Wars-inspired campaign?
Chris Oates: The development of Brisk's marketing initiatives are a collective effort between the brand, cross-functional team members, and an inter-agency team. We worked with our creative agency Mekanism to develop the Star Wars campaign ecosystem which included, radio, TV and the Brisksaber mobile gaming app. VaynerMedia led all social media (hit 100K fans this year), Tracy Locke led new Star Wars packaging development and POS (the Uncap the App promotion), OMD handled media, SA Studios led the Brisk Bodega events, Amplitude led our mobile grassroots tour, and Olson led all public relations.
Popsop: What marketing agency do you partner on the Brisk Bodega series of events with? And regarding the Brisksaber gaming app development and promotion?
Chris Oates: For the Brisk Bodega series of events we worked closely with SA Studios to plan and execute events in New York City, Los Angeles and at SXSW. Mekanism led the Brisksaber app development and Olson led public relations for both the Brisk Bodega and the Brisksaber app.
Popsop: I can imagine that Brisk's target loves smartphone games and sci-fi…But art? Are they really responsive to visual art?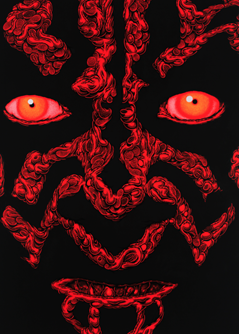 Chris Oates: Art is a key brand pillar for Brisk as it is a product of the creativity and self-expression of our consumers. Brisk has consistently engaged with its consumers through design including a partnership with emerging artists in 2010 to design a series of new Brisk packaging. In 2011, Brisk tapped artist and illustrator Tristan Eatan to design Yelawolf's tour bus and unveiled a new Green Lantern can designed by DC Comics artist Kenneth Rocafort. And, in 2012, Brisk Bodoga brought a unique take the cultural phenomenon of Star Wars to life through the eyes of relevant artists that included: Mark Dean Veca, Eye One, Artek, Jasper Wong, Pose, Leo Eguiarte, Tristan Eaton and Dual Forces.
It's the type of art that our fans respond to and not art itself. Bold art with attitude fits with the Brisk brand personality and is reflective of the spirit of pop culture.
Popsop: Have you already measured the effectiveness of the whole «Star Wars» campaign so far quantitatively (ROI on TV campaign, separately — on digital and experiential marketing activities)?  Can you share any results, figures, and thoughts?
Chris Oates: We have gathered some metrics from recent Star Wars campaign activations:
Brisk volume +20% vs prior year
1-Liter volume +32% vs prior year (the Uncap The App promo was featured on our 1-Liter bottles)
1.7 million BriskSaber app downloads
"That's Brisk Baby" has been heard while playing BriskSaber 39 million times (estimate)
Brisk Star Wars campaign received over 1.5 billion media impressions
Grew to 1.1 Million Facebook fans
In 2012, Brisk reached the billion dollar brand mark
Multicultural constitute 46% of our consumers and 44% of Brisk consumption occasions
Brisk volume in two years – from 48M cases in 2009 to 104M cases in 2011
Popsop: In financial terms, how do you define whether an integrated campaign was successful or not? Any minimum point of ROI? And who's responsible for failure, if it doesn't bring the expected results?
Chris Oates: We want to know that the campaign is helping grow the business and improving our brand health metrics. The campaign is a collaborative effort across many different people with the hope that this diversity of thought will lead to a successful campaign.
Popsop:  What do you think is the future of brand communications in general, and of your brands — Pepsi, Mtn Dew, Brisk — in particular? Don't you think that social media and digital comms are just a huge bubble, which makes the communication with the consumer too multi-layered and messaging too complex? At the end of the day, fans buy Brisk because they love the taste, the feeling of refreshment that the drink gives them…not the movies, games, prizes and other tricks behind the bottle?
Chris Oates: I think every marketer would agree that integrated programming is imperative. But, that mix may be different for each brand. For Brisk, cutting-edge social and digital endeavors will remain at the forefront of our marketing and I don't see this path stopping anytime soon.
Movies, games, prizing, etc. won't help sustain a brand in the long run. For this reason, we ensure that we're infusing our key brand message into each promotional touch point while providing consumers with valuable content.