Toyota has introduced a new concept car at the Tokyo Toy Show 2012 last week. The presented car called Camatte is designed especially for…kids.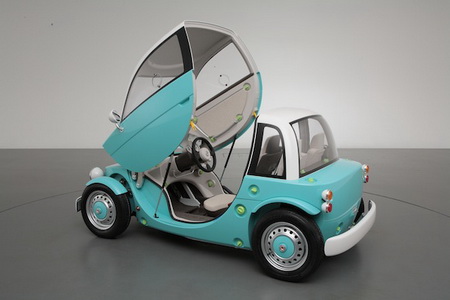 Photo: Toyota Camatte, from blog.toyota.co.uk
As Toyota said, the car designed to "introduce children to the fun of driving, customizing and owning a car". Camatte is made in two versions— the Camatte Sora and Camatte Daichi and features parts that can be easily removed and swapped to play with design and color.
The concept is 2.7 meters long and 1.2 meters in height the car can serve as a model for families to explain their young children how the vehicle works. Children can operate the controls and learn driving and the car has a rear seating from where parents can assist them with steering and braking. The seating is designed to be triangular to reduce the distance between the center-positioned driver's seat and the two rear seat to facilitate communication.
The name Camatte of the car comes from the Japanese word for 'care' reflecting the idea behind the car concept of 'caring for others' and 'caring for cars'.
Toyota also targets youth in another way, by sponsoring  youth education in the US.