Two largest drugstore companies of the USA and UK—Walgreen Co and Alliance Boots respectively—have started merging to "create the first global pharmacy-led, health and wellbeing enterprise.»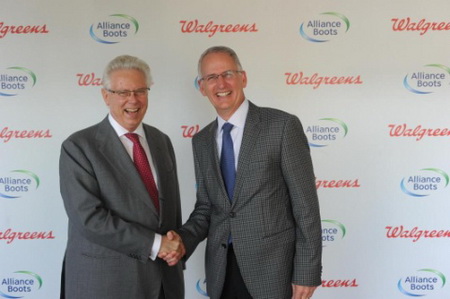 Photo: Alliance Boots Executive Chairman Stefano Pessina (left)
and Walgreens President and CEO Greg Wasson
Walgreens acquired 45-percent stake of Boots for $6.7 billion. According to the press release, the two companies are looking to a full merger in three years for further $9.5 billion. The drugstore giants will have 11,000 stores in 12 countries in total and will be able to further build its businesses on emerging and developed markets.
Gregory Wasson, President and CEO of Walgreens, said, "We are looking forward to working with Alliance Boots to leverage our combined strengths and provide an even broader range of innovative, cost-effective products and services to patients and customers across the healthcare landscape. Together we will be ideally positioned to expand our customer offerings in our existing markets and become the health and wellbeing partner of choice in emerging markets."
Together Walgreens and Alliance Boots would have a large portfolio of retail and business brands such as Walgreens, Duane Reade, Boots and Alliance Healthcare as well as health and beauty product brands such as No7, Botanics and Boots Laboratories.
Upon completion of the transaction, the name of the new company will "reflect the strong heritage of both companies". The both companies don't plan job reductions as a result of the transaction.