A few months after the announcement it's developing e-sound for its cars, Audi has presented a new format of automotive retail, Audi City, which opened in London close to Piccadilly Circus. The store keeps in pace with time and technology and offers visitors the entire Audi model line-up digitally. This is how the brand allows consumers to view all its products in a compact space.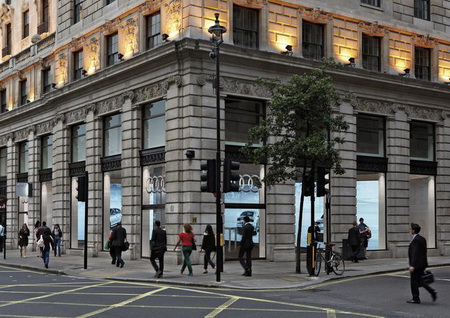 Photo: Audi City in London
Audi plans to open more such locations in more than 20 stores worldwide by 2015. AudiCitywill be a focus point in the marketing of new mobility services and electric cars.
"Audi City combines the best of two worlds—digital product presentation and personal contact with the dealer," says Peter Schwarzenbauer, Member of the Board of Management for Marketing and Sales at AUDI AG. "This new retail format brings us even closer to our customers—geographically, of course, but first and foremost in terms of the quality of our relationship. Audi City offers new freedom for tailor-made services and an even more individual contact with the customer."
Using the technology, visitors can select their customized vehicle from several hundred million possible configurations and view it in realistic 1:1 scale on large screens. The car details such as the drivetrain or bodyshell can be experienced separately. Customer Relationship Managers will be onsite for customers to contact for all needs. AUDI AG already offers its employee corresponding training programs and also supports the dealer in their selection and further training.
The concept store represents Audi's vision of the future automotive retail industry: it is totally individual-oriented, digital and experiential. AudiCitywill become more then just a store where customers can select their next vehicle—it will be a place where fans will be able to find more and more on their favorite brand and the store will serve as "a dialogue forum for issues outside of core automotive business".