Gap's Banana Republic has teamed up with Condé Nast Publications' Bon Appétit as well as with the online restaurant reservation service OpenTable to launch a new summer apparel collection. The promotion called Desk to Dinner is slated to begin next week and will encompass print ads, direct mail, e-mail, digital content and social media including an Open Table blog, Dining Check.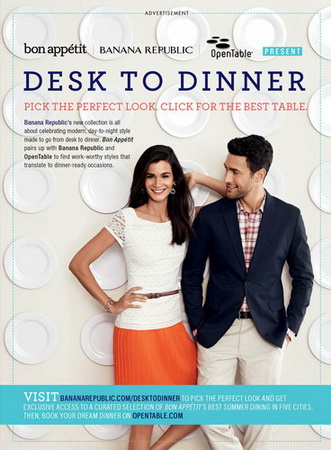 Photo: a Desk to Dinner ad, from www.nytimes.com
The line offers consumers various garments that, as the name suggests, included items which be worn at the office and at the restaurant. Banana Republic will showcase the new collection in the windows of all 450 Banana Republic stores in North America as well as events in stores in major markets like Chicago, Houston and Miami, featuring chefs from local restaurants, says The New York Times.
One of the previous Banana Republic campaigns was an inspired by 'Mad Men' series collection promotion in partnership with AMC TV channel.
According to Chris Nicklo, Vice President For Marketing at Banana Republic in San Francisco, food is "definitely one of the passions" of the brand's customers, so the brand decided to launch this partnership.
"Collaboration, in my mind, is the wave of the future for marketers", he said. "By partnering, we could bring more to bear than any of us could alone."
Editors of Bon Appétit will create content such as restaurant reviews for a Desk to Dinner section of the Banana Republic web site that will go live in a week. The links in the reviews to the OpenTable web site will allow users to book reservations.