Do you trust someone you look up to, marvel and respect? The most common answer is "yes," and brands gladly use this weak spot of their consumers to sell more by teaming up with celebrities, who actually 'advise' you to use some products. This tried-and-true strategy usually delivers nice results, since it builds on the traditional approach—if you like somebody, you trust them and so you are more positive about things they promote. When brands enlist a well-recognized person for their advertising campaigns, they rely on his or her flawless image and perfect relevance with the target audience, put people (including Hollywood A-listers) sometimes can reveal their darker sides or get into situations, which can affect the image of the brand and turn the celebrity endorsement into a disaster, affecting the company's image for decades (as it was with Marlboro's cowboys Wayne McLaren, David McLean and Dick Hammer who all died of lung cancer).
Or, on the contrary, such collaborations can contribute to the success of both the brand and celebrity, who are associated with each other for years or even decades. I've looked through most of the recent big celebrity endorsements to make a list of a few most impactful and most disastrous examples of brands' collaborations with media, TV, music and cinema faces.
Let's take a look at what star-studded campaigns brands launch and whom they consider the best faces to represent their products—I've sorted the examples by industry.
 Clothing and footwear
The sports gear and apparel should be promoted by sports celebrities—in fact, in most cases, this is true, but not always, since brands like Nike, PUMA and Reebok sometimes invite big names from other fields as well. Remember adidas' numerous campaigns featuring both athletes and modern music icons, as it is in 'adidas all in' promotion, where NBA star Derrick Rose, soccer stars David Beckham and Lionel Messi, pop icon Katy Perry, hip hop artist B.o.B. and more come together, or a hilarious Nike Football Write The Future advert, featuring Didier Drogba, Wayne Rooney, Christiano Ronaldo and more athletes, viewed over 1.5 million times on the official Nike Football YouTube-channel. On January 1, 2012, Nike has also launched the #makeitcount campaign featuring Cristiano Ronaldo, Jack Wilshere, Rio Ferdinand, Lance Armstrong, Mark Cavendish and more—the campaign was designed to inspire consumers to reach their goals.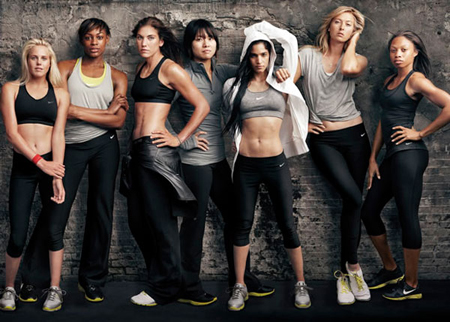 Photo: Nike's 'Make Yourself' campaign
Is this really a face that helps promote the product? I don't think so. Of course, each of these celebrities have their own story of success (Lance Armstrong is a cancer-fighter, David Beckham is the most recognizable football face thanks to his partnerships with fashion brands and his own meterosexual look, 27-year old singer Katy Perry became extremely popular over the past years), but the message of the campaign plays a bigger role here. It is the inspirational phrase and idea that turns the promotion into a hit, not the celebrity. Sometimes, a message even can save the situation.
Nike, which signed dozens of contracts with top athletes around the globe, has experienced hard times with some of them. In the end of 2009, Nike's ambassador Tiger Woods was in the midst of a sex scandal, when his extramarital affair was revealed, and Nike decided to stick to the golfer no matter now shattered his image turned to be—the brand released the 'Earl and Tiger' video featuring silent Tiger Woods, which generated 3.5 million views on the official Nike Golf YouTube-channel and invited pupliс to look at the situation at a new angle (learning from your own mistakes). Kobe Bryant, another Nike's face, remained with the brand after he had been accused of sexual assault in 2003, while Nutella and McDonald's didn't prolonged the contract with the basketball pitch star because of this case. As it turns out, brands may value different things in the celebrity's image—for Nike, which puts the sport achievements and drive to sport success into the spotlight, cares less about the celebrity's social behavior, while food (family) brands put this factor above all. Everyone remembers the photos of super model Kate Moss snorting cocaine in 2005—these stills had affected her career greatly, since she lost her endorsement deals with H&M and Chanel, Burberry—still, the last brand along with Calvin Klein, Dior and Louis Vuitton signed a contract with the model soon after that. Obviously, the super model was considered too valuable to get dumped because of this episode, dirty, but usual. Would Mars or Coca-Cola strive to maintain a contract with her? I doubt it.
Alcohol Drinks, Beverages and Food
These brands look for both respectable faces and rebels (to some extend) when choosing celebrities to get represented by. When it comes to alcohol drinks, there are two major categories of celebrities who get featured in the promotions—sources of wisdom and inspiration (mostly for whiskey and cognac—Hennessy and Johnnie Walker), and entertainers (vodka—Smirnoff, Stoli, as well as rum—Bacardi, Malibu). It's hard to measure the impact of the campaign on audience, but we can look at how popular it was and how much buzz it has generated. When I recollect the celebrity marketing initiatives launched by alcohol brands, a few massive and successful promotions come to my mind including Stoli's 'Would You Like to Have a Drink with You' campaign featuring Twitter's co-founder Biz Stone and Playboy's father Hugh Hefner, Madonna's tie-up with Smirnoff as part of the dancing competition, and the Walk With Giants campaign launched back in 2008 by Johnny Walker, starring people with inspiring life stories from around the globe. Talking about negative examples here, I cannot forget about footballer turned actor Vinnie Jones and Bacardi Rum in 2008—the brand had to pull the ad starring the actor 10 days before Christmas in the UK because of Vinnie's air rage accident.
Surprisingly enough, soft drinks giants have more problems with their celebrities. For instance, back in 1989 The New York Times wrote that PepsiCo "canceled plans to broadcast a television commercial in which the rock star Madonna advertises Pepsi-Cola, after finding that consumers confused the commercial with a music video [Like a Prayer] by the singer that included religious imagery. Pepsico paid Madonna more than $5 million to appear in a two-minute commercial that first appeared on March 2. In it, Madonna traveled back to her 8th birthday. On March 3, Madonna released her latest music video, 'Like a Prayer,» which is about a young girl struggling with feelings of guilt and sexuality.» For Pepsi, the positive image was above all—the brand didn't want its ad to be associated with Madonna's racy video clip, and had to pull the ad two days after its launch.
Recently, Coca-Cola cancelled a contract with Ronaldinho because he was seen with two cans of Pepsi at a press conference. "The fact that the player has appeared with a can of Pepsi was the straw that broke the camel's back. The sponsorship had become embarrassing," commented Coca-Cola marketing chief Marcelo Pontes. This was the very reason why the beverage company decided to put an end to their $750,000 sponsorship deal with Ronaldinho, which was to continue through 2014. There have been some rumors that PepsiCo could end its partnership with Andrey Arshavin following his words after the Russia's team lost to Greece at Euro 2012—he said that the national team's failure "was not the team's problem," it was fans who had been expecting too much from the footballers. His announcement generated much negative buzz in Russia, but PepsiCo's representative commented that the company wouldn't cancel Arshavin's deal with Pepsi and Lay's, and he would continue to be the brands' face until the end of the contract.
For PepsiCo, things went much smoother with Sofia Vergara, who recently landed on the top Forbes' 2012 List Of Highest-Paid TV Actresses (see the full list of female screen celebrities here)—the 40-year-old celebrity starred in Diet Pepsi commercials (along with Beckham), and she also was tapped for the Burger King campaign. Talking about BK, recently it launched a star-studded promotion of its new menu featuring most recognized faces, trying to win customers from its all-time rival McDonald's, which in different years tapped Serena and Venus Williams, and Justin Timberlake to name but a few. Maybe, the biggest fail for fast-food chains would be the celebrity's obesity, even after the deals are over—hopefully no one of them will get extra pounds.
Cosmetics and fragrances
It goes without saying that beauty brands always invite only most charming and gorgeous ladies, who embody beauty and tenderness, to represent their products. Even Lady Gaga, who has probably the most extravagant image on the modern music stage, behaves very predictably within her 'bad girl' role promoting MAC cosmetics or her own fragrance. One of the worst endorsement deals were Dior's partnership with Sharon Stone (after the actress said in 2008 that the earthquake in south-west China was the result of «bad karma» over Beijing's occupation of Tibet, the images of Stone promoting the skincare line were removed from cosmetics stores across China).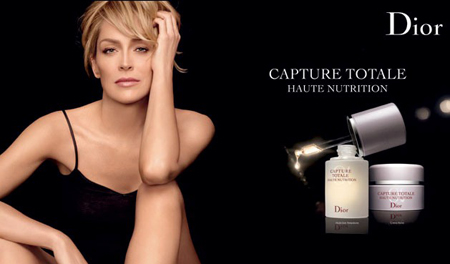 Photo: Sharon Stone in Dior's ad
Technology
When it comes to technology leaders, they prefer to tap musicians to promote their cutting-edge technologies, but there can be exceptions as well. In 2008, Microsoft's boss Bill Gates and Jerry Seinfeld appeared in a commercial promoting new Windows Vista, but it was a bad try, completely not relevant—the advert was pumped after just a month after the launch. The company changed the face of the Windows Not Walls campaign with the "I'm a PC" message by inviting roster of celebrities including Gates himself, Deepak Chopra, Eva Longoria and Pharrell Williams. There are also much more successful collaborations of brands and celebrity speakers, which imply a deeper involvement of the last and so are much more effective and valuable for both brands and the popular faces. For instance, Will.i.am became a director of creative innovation at Intel, and rapper Dr Dre collaborates with HP and HTC, providing its Beats audiosystem for the brands' products, while Lady Gaga provides her creative power to Polaroid. In addition to that, there are numerous limited-edition products created and thus promoted by celebrities, such as the U2 iPod to name but a few. One of the most successful collaborative campaigns was the promotion of Jay Z's "Decoded" book with the help of Bing.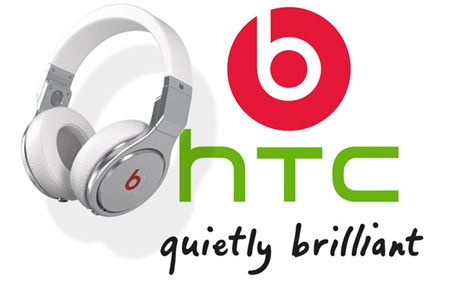 Photo: HTC collaboration with Dr Dre
In fact, the perfect marriage of the face and product is based on their common origin, sometimes, literally—when celebrities represent their own brands, like Madonna with her Material Girl brand or the above mentioned Justin Timberlake and his 901 Silver Tequila. Instead of debating about the pros and cons of celebrity endorsement for global and local brands, let's focus on the three key conclusions that should drive such partnerships and are crucial for leveraging the maximum from the collaboration:
1. Mind the celebrity. Of course, it's hard to imagine that a mother of four children will be in the middle of some scandal or an ambitious athlete will start taking drugs, but this happens too. The best thing to do here is to review his or her previous endorsements, news about his activities and announcements, study the public attitude towards your future 'face'. Make sure that the celebrity shares the major principles of the brand, and will stay loyal to it during the duration of the contract.
2. Mind the brand. Sometimes the tie-up with a celebrity won't make the brand any good if his or her image is irrelevant to the brand's identity. Ridiculous matches help generate buzz as well, but usually this is a negative power, which you probably don't need at all.
3. Mind the strategy. Nothing lasts for ever, so brands should develop a plan of the most successful collaboration with the celebrity during the contract and be ready to develop creative products to launch in case the celebrity makes a wrong turn (like Nike in its 'son and dad' ad). Again, you can't imagine what can happen tomorrow, but getting armed and ready for the most predictable situations is possible.
In the end, I'd like to say a few words about the medium. Now that the social media environment is gaining momentum, becoming the most credible platform for a growing number of consumers, brands try to capitalize on the celebrity's presence Facebook and Twitter as well as other platforms of this kind by using celebrity endorsement messages (Twitter) or featuring popular faces in their promotions in social media. Still, a research from Saint Joseph's University in Philadelphia revealed that the celebrity tweets are not that effective for major labels, while being more useful for less-known brands. "It appears that celebrity tweets do little beyond communicating product information or encouraging consumers to search online," said marketing researcher Janée Burkhalter, one of the study's authors. When it comes to the media, digital is sure to be the most successfully developing platform, but traditional ones like TV, print and outdoor are also still in game for celebrity marketing, and brands are using them actively as well. In addition to that, celebrities' life also becomes a advertising platform, so companies should think twice before hiring a popular actor or music star, because they actually marry each other for a longer time than a campaign runs.