GE has found a way to advertise in Sao Paulo—a city where outdoor advertising was banned five years ago, according to the Clean City Law which prohibits visual pollution. 

Photo: GE Gallery, from www.ge.com/br, clickable
GE and Sao Paulo agency Almap BBDO have created three art graffitis on Sao Paulo buildings last week. This week a small GE's logo will be added to each of them and a social-media campaign will begin, says Ad Age.
Marcello Serpa, partner and creative director at Almap BBDO commented that Sao Paolo is a gray city and the agency used buildings as billboards to add some color and attract attention of citizens to this form of art, as well as let them think of GE's products. The idea came up when the Sao Paulo mayor's office announced that the city would be open to graffiti art projects to make it more beautiful.
For now, GE Gallery has transmitted three paintings to the privately-owned buildings each about 120 feethigh. The graffitis represent three areas GE operates in: energy, health and transportation and were painted by street artists Rui Amaral, Estudio Colletivo and Mulheres Barbadas. These three houses are situated in high-traffic areas for many people to see it and the paintings remain on the walls for about a year. GE's logo will appear at the bottom soon.
The social-media campaign starts this week under the slogan: 'If you can imagine it, it can be done' on GE's Facebook page. Users can find out more information about the project and see the location of the panels on an interactive map of Sao Paulo. GE has also launched an interactive map for the London Olympics.
Later users will be able to vote on which two of four artists should get to paint the next two panels, which will be about water and aviation. GE will play off the transportation theme panel with an augmented reality app in September.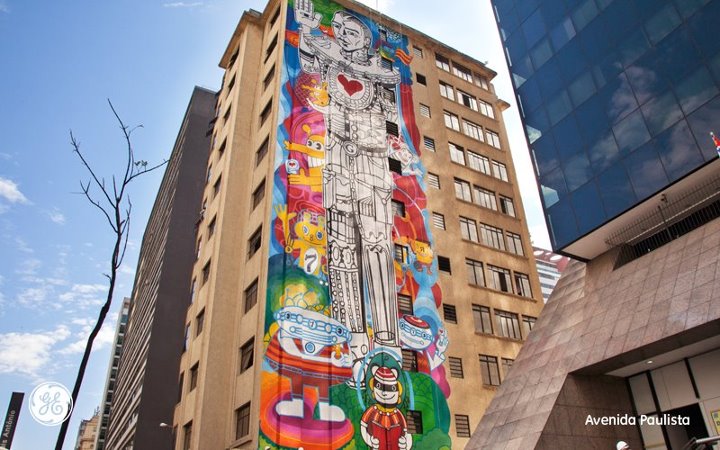 Photo: GE Gallery, from www.ge.com/br, clickable