The GE company, one of the London 2012 sponsors, has demonstrated its involvement into the upcoming Olympic Games and Paralympic Games by unveiling an interactive map featuring an overview of venues, to which the energy and technology giant has contributed. The new website uses Microsoft's Bing platform and features a plethora of locations with short description about each of them.
"From technology and solutions in infrastructure and transportation to energy and healthcare, GE is committed to supporting host cities and countries in staging successful Games. This map gives an overview of the venues for the London 2012 Olympic and Paralympic Games and highlights the areas where GE is making a significant contribution," says the company on the website.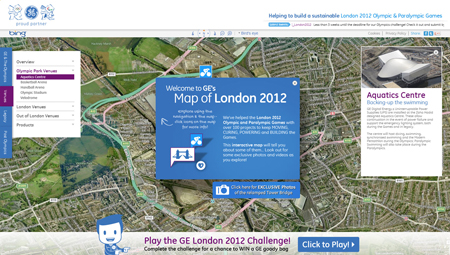 Photo: A snapshot from the www.gemaps.com/london2012 website
The company has done a lot to power the games—its contributions range from providing heart defibrillators to the healthcare services to UPS for test events across a number of venues and supplying around 14,000 lamps to be used in the back-of-house functional areas of the Olympic Stadium to name but a few. The infrastructure of each landmark on the website, including Olympic Stadium, Greenwich Park, Aquatics Centre and more, feature one of the GE technologies.
Visitors to the website also can take GE London 2012 Challenge for a chance to win a GE goody bag—to win the prize, competitors are to answer six animated questions revolving around GE's part in powering the Olympic Games 2012. The brand also tells its story of its Olympic sponsorship started in 2004 for Torino 2006, mapping all of its four Olympic Games—it's also noted that the company extended its sponsorship until 2020.