IBM Research has unveiled the prototype of a mobile app, which will provide consumers with a personalized shopping experience.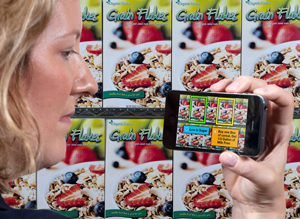 Photo: how the app would work, from research.ibm.com
The app acts as a personal shopping assistant helping consumers to search for the products they need based on ingredients. For example, if you're looking for a low-fat chocolate ice-cream. You can specify the details and scan your mobile over the fridge with ice-cream and the app will identify the needed product among lots of others. The mobile app could be branded and provided by retailers.
Consumers could add their preferences including ingredients, ecological packaging and even reviews or comments from friends to make shopping more comprehensive and easy. Once the app finds the products, it will display information above the product images and rank them based on a number of criteria, such as price and nutritional value. IBM foresees marketing options for brands—the app would offer shoppers loyalty rewards, coupons or incentives based on what the customer has already viewed. Marketers could also receive a data on the preferences of their shoppers, as well as the store traffic. The app is slated to launch by the end of the year.
According to IBM's head of Retail Research, Sima Nadler, the differences between online shopping and in-store shopping will start to merge. «What we're seeing is the blurring of the physical and the virtual.» 
"By providing in-store shoppers with the same kind of personalized information that online shoppers receive, retailers can now harness Big Data in order to cater to each individual on a more personal level and transform marketing into a convenient and welcomed service for consumers," says IBM.
Many brands are using an augmented reality mobile technology to provide their consumers with captivating shopping experience and promote new products. For example, Swarowski rolled out such an app last month to promote a new eyewear range and Nestlé used the technology to launch Resource, its new spring water brand.