IKEA has followed other brand initiatives in airport lounges and unveiled a VIP lounge in the Terminal 3 of de Gaulle. This is similar to what Grey Goose and Virgin Atlantic created in London's Heathrow T3 last year, but promotes the brand's products, furniture and textile directly offering visitors to try it out while waiting for an airplane.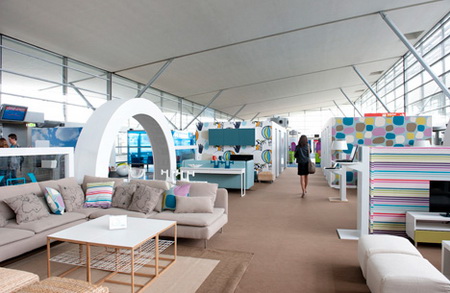 «Holiday departures are often a source of stress and because the waiting time in the departure lounge is an average of one hour and 43 minutes, IKEA wanted to use its expertise in interior design to serve the economy class,» says the press release.
"Completely free, visitors will live a unique experience: greeted by a hostess, they can relax by reading the press, by watching TV from a comfortable sofa, or enjoy the quality of IKEA's mattresses for a nap in one of the 9 bedrooms of the space (including one accessible to the disabled)."
The square meters 50 children's area will be supervised by instructors. With a total space of over 220 square meters, IKEA Lounge will be able to host dozens of visitors at a time.
In addition, the company has revealed a new 2-minute fun film, created by McCannNew York and directed by Paranoid's Olivier Babinet. It shows an imaginary world without textiles demonstrating how hard a life without something soft can be.
The web film set to a track called 'Everything I Own' by Maplewood is the introduction for IKEA's catalog for the year, which has 'textiles' as a key theme.