Gap celebrates the school season and promotes its new fall collection for kids by launching the Shine On campaign in the USA and Canada. The new promotion, which basically syncs with the brand's Be Bright positioning for older consumers, features kids ranging from one to 12 years old, who are spreading joy around themselves and painting a mural on the campus of Daniel Webster Middle School in Los Angeles with vibrant colours.
The campaign stars four winners selected through the Gap's 6th annual kids casting call as well as children selected for their talents and activity, which helps the world to be a better place to live in—an 8-year old DJ, a 12-year old ballerina, a 10-year old violinist, a 4-year old comedian and an 11-year old anti-bullying activist are among them. The kids are promoting items from the new collection including the Jewel Box Skinnies for girls (which, by the way, generated a lot of negative comments on Facebook) and the Action Stretch Denim for boys in the bright and engaging way in the midst of the gaming and creative environment.
"Shine On exemplifies what it means to be bright by bringing together a group of exceptional children and empowering them to impact the world in a positive way," said Seth Farbman, Gap's Global Chief Marketing Officer. "By pairing our Casting Call finalists with a hand-selected group of children who are making a difference in the world, we're capturing the optimistic spirit of what it means to be a Gap kid."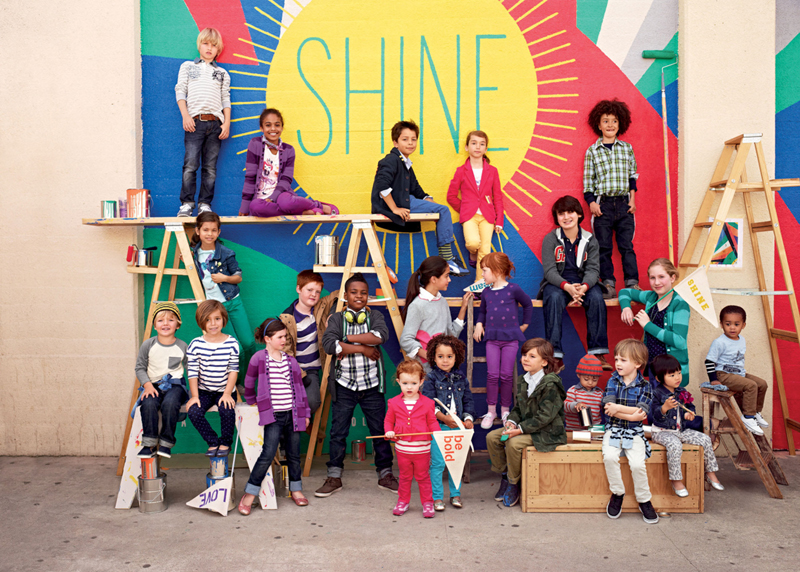 Photo: Gap's Shine On campaign (click to enlarge)
The Shine On promotion is revolving around the creative theme—to support the DIY activities within the families, the brand has launched #ShineOn Saturdays, a series of online tutorials for kids and their parents, which will help unleash the kids' creativity at home. According to the press release, these "activities range from crafting bedazzled pencil cases inspired by the Jewel Box Straight Sweater, to making preppy sport patches inspired by the Military Cardigan and Stretch Denim." To spread the initiative across the globe, Gap is taking it to its social media hubs, where the activities are accessible from every corner of the world—it is to be rolled out on Facebook, Twitter, Pinterest and Instagram. For US and Canada consumers, the activities will also live in the off-line settings, since themed projects by craft blogger Merrilee Liddiard of Mer Mag will also arrive to the Gap stores in Boston, Chicago, Dallas, Los Angeles, New York,Miami, Philadelphia, San Francisco, Toronto and Washington D.C. soon.