Levi's believes that the best way to get something done is to do it yourself—with your own hands, and the brand arranges its workshops across the planet to provide its fans with such an opportunity. After launching print, photo and film workshops in the US and Germany, the brand has opened its London-based in-store Print Workshop in Levi's, Regent Street, which will be running from July 13 through August 3, calling all people to explore their creativity and get into live screen printing experience side-by-side with experienced craftsmen and craftswomen.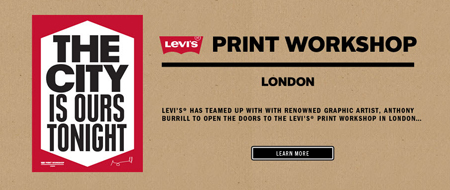 Photo: A screenshot from the www.eu.levi.com website
For the fifth workshop project in a row, the brand has teamed up with celebrated graphic artist, Anthony Burrill, who developed a series of prints for T-shirts in his legendary 'statements' style—visitors to the creative experimental space will be able to print their own tees featuring his designs. For this collaboration, the artist created a series of three graphics in his witty letter craft aesthetics—the statements include THE CITY IS OURS TONIGHT, DO YOU KNOW WHERE YOU ARE? and THIS IS NOT THE WEST, created to highlight East London atmosphere and style (tees featuring this slogan will be available exclusively at Levi's Boxpark pop-up store in Shoreditch).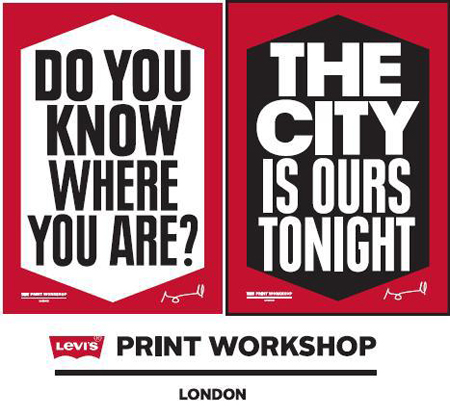 Photo: Levi's Print Workshop graphics, www.facebook.com/Levis
Levi's is offering its fans several ways to get engaged into the initiative. During the project, they can tweet workshop slogans of six words maximum (about London, craft, pioneering, unique and iconic) with #PrintLondon hashtag or post them in-store using special printed cards, putting them on the memo board. Each day, the brand will chose one the submissions, the most original and inspiring one, and print the statement the next day together with visitors to the venue. For instance, the print of July 15 is CHANGING OF THE GUARD, and it'll be introduced for printing at the workshop today, July 16.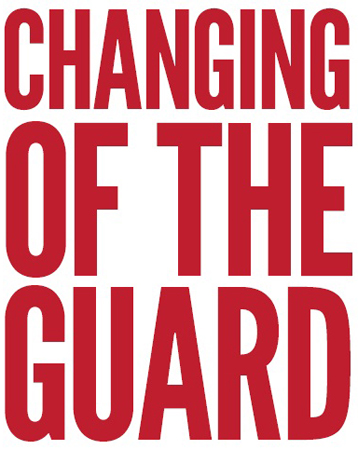 Photo: Levi's Print Workshop graphics of July 16, www.twitter.com/Levis_UK